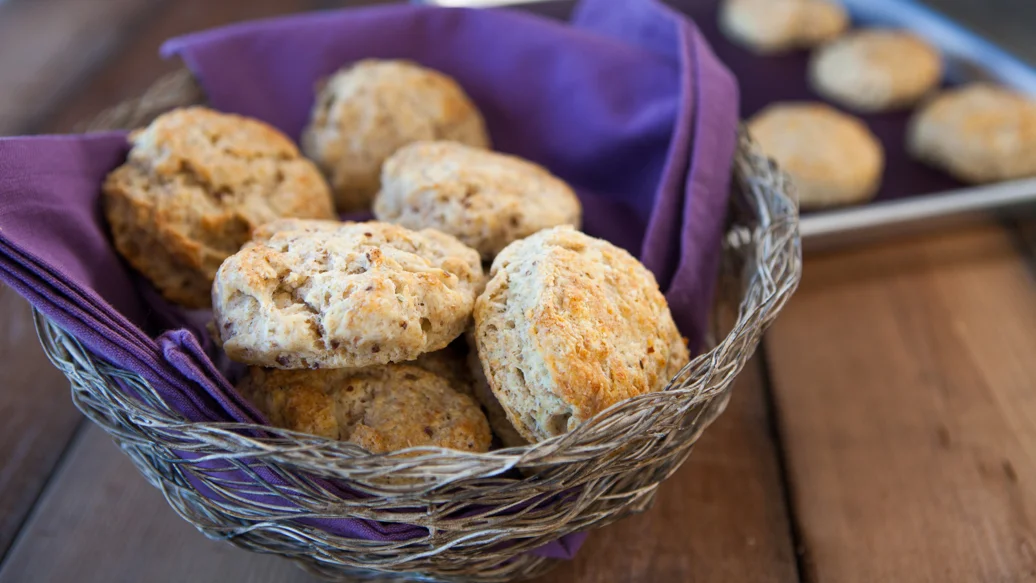 22 min
12 servings
$0.35/serving
Pair with a hearty soup for a healthy harvest meal.
Ingredients
1 cup whole wheat flour
1 cup all-purpose flour
1 tbsp baking powder
1⁄2 tsp baking soda
1 tsp sugar
1 tsp salt
1 cup buttermilk
1⁄2 cup butter, cold (cut into cubes)
milk, optional
Preparation
Preheat oven to 450° F (230° C). In a large bowl whisk flours with baking powder, baking soda, CCB, sugar and salt. Or place dry ingredients in a food processor.
Using 2 knives or a food processor, cut in butter until coarse crumbs form.
Add buttermilk and mix just until moist.
Turn dough onto a lightly floured counter and lightly knead to come together. Think 4 or 5 turns of the dough. Flatten dough to 1-inch thickness.
Cut with a biscuit cutter or a kitchen glass to form rounds. Place on Sheet Pan lined with Sheet Pan Liner. Brush tops with milk, if you wish.
Bake until tops are golden, 12 to 15 minutes. Best served warm.
Nutritional Information
Per serving: Calories 150, Fat 8 g (Saturated 5 g, Trans 0.2 g), Cholesterol 20 mg, Sodium 150 mg, Carbohydrate 18 g (Fibre 2 g, Sugars 1 g), Protein 3 g.