Broccoli Cheddar Chicken Casserole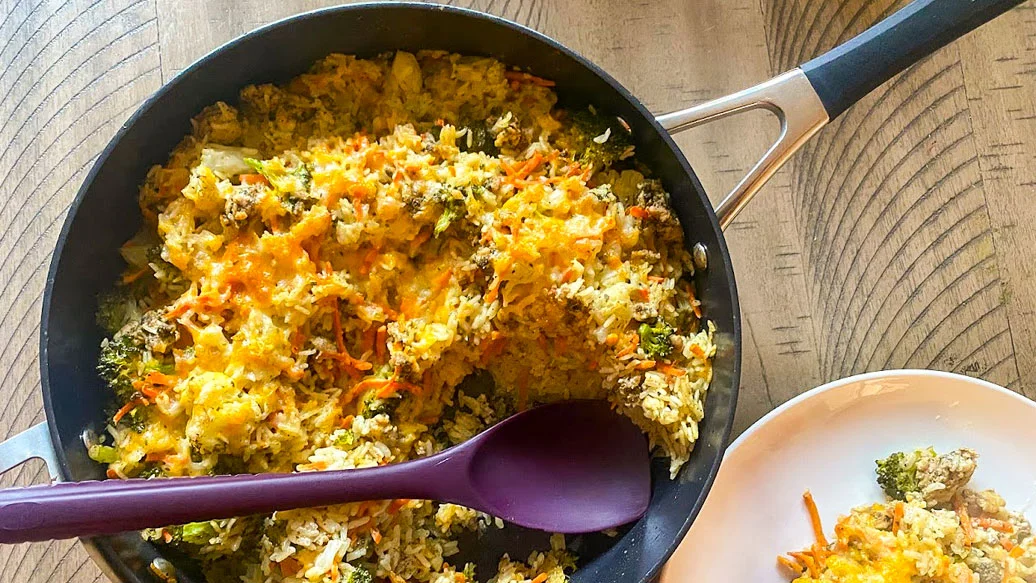 45 min
6 servings
$3.44/serving
As the days grow shorter and the air crispier, there's nothing quite like a cozy, satisfying casserole. With their rich and hearty layers, casseroles are the epitome of comfort and warmth. Whether it's Thanksgiving, Christmas, or just a regular weeknight, this one-pot wonder is super hands-off so you can spend less time in the kitchen and more time with family and friends.  
Perfectly Balance Your Plate
This is a perfectly balanced plate. 
Ingredients
1 tbsp oil
1 lb (450 g) lean ground chicken
1 pkg Roast Turkey Seasoning
4 cups broccoli florets
2 cups matchstick carrots
2 cups uncooked rice
2 tbsp butter
1 cup grated cheddar cheese, divided
1⁄2 cup milk, your choice
Topping (optional): Better Than Bacon Topper 
Preparation
Preheat oven to 425° F.  
Heat oil in Sauté Pan over medium-high heat; add chicken and seasoning. Cook until browned, 3–4 min.  
Meanwhile, roughly chop broccoli. 
Add broccoli, broth, carrots, rice, and butter to pan; bring to a boil. Cover and reduce heat to medium-low. Simmer 20 min, until liquid is taken up and rice is almost cooked.  
Stir in 1⁄2 cup cheese and milk. Sprinkle remaining 1⁄2 cup cheese over top.  
Transfer pan to oven. Bake 15 min, until cheese is melted and starting to brown.   
Nutritional Information
Per serving: Calories 550, Fat 20 g (Saturated 8 g, Trans 0.5 g), Cholesterol 95 mg, Sodium 280 mg, Carbohydrate 68 g (Fibre 4 g, Sugars 4 g), Protein 26 g.