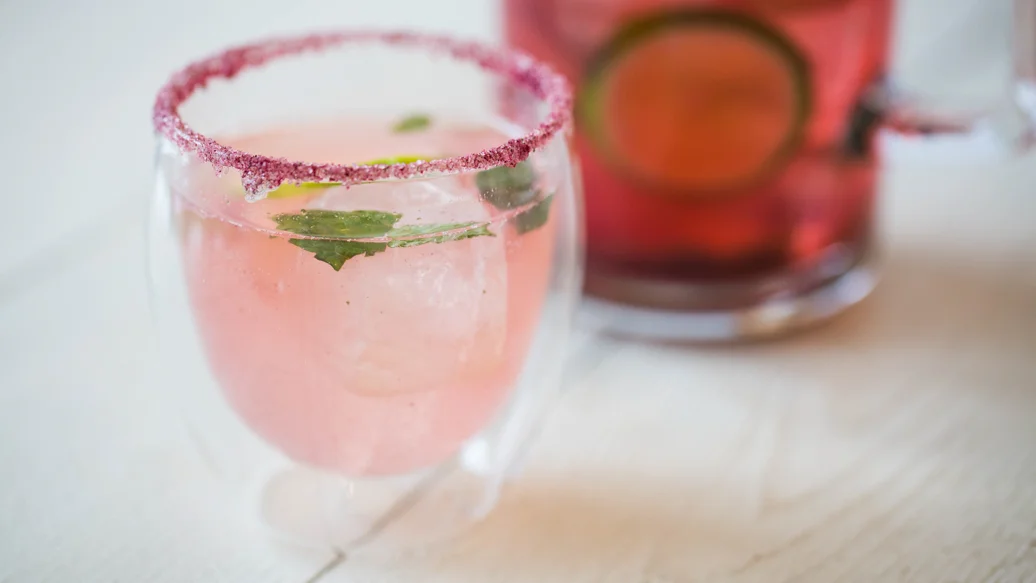 A refreshing and berry-licious twist on the classic Cuban cocktail.
Ingredients
Berry Basil Rim Trimmer™, enough to trim glass rims
lime wedges
ice, enough to fill glasses
1⁄2 cup fresh mint
2 limes, juiced
2 tbsp Berry Basil Rim Trimmer™
2 1⁄2 cups brewed white tea, chilled
2 1⁄2 cups soda water
2⁄3 cup rum, optional
Preparation
Shake rim trimmer on small plate. Moisten rims of glasses with lime wedge and rotate on plate to evenly frost. Fill with ice.
In a large pitcher, muddle mint with Berry Basil Rim Trimmer™ and lime juice until well combined. Stir in tea, soda water, and rum.
Pour into prepared glasses. Garnish with lime wedges.
Nutritional Information
Per serving: Calories 60, Fat 0 g (Saturated 0 g, Trans 0 g), Cholesterol 0 mg, Sodium 25 mg, Carbohydrate 15 g (Fibre 2 g, Sugars 12 g), Protein 1 g.