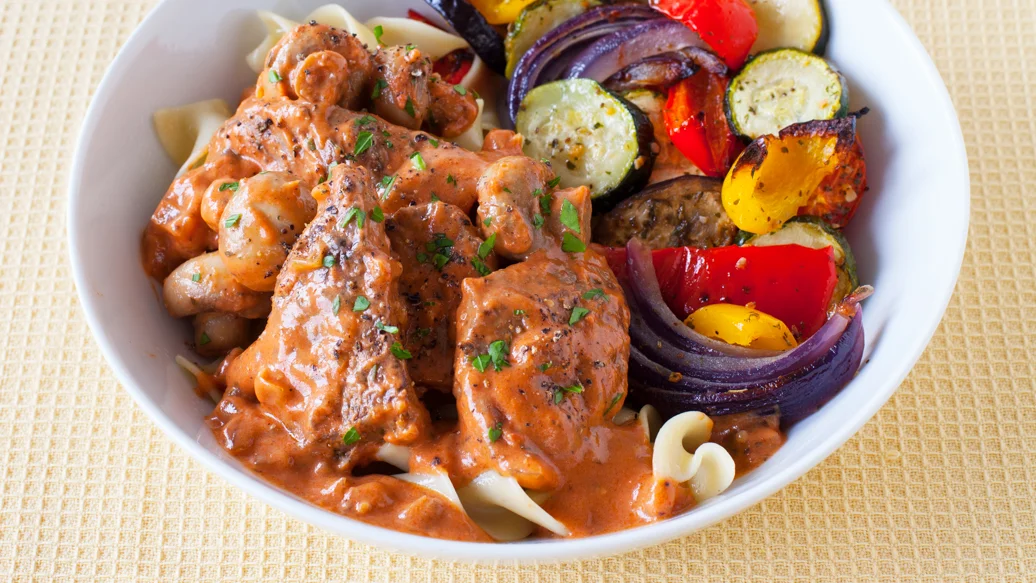 35 - 40 min
6 servings
$1.70/serving
Fantastically simple, delicious and heartwarming. Traditionally served over noodles, but you can also try it with roasted vegetables.
Ingredients
1 lb (450 g) beef sirloin
1 tbsp vegetable oil
Black Pepper
15 - 20 button mushrooms
1 onion
1 can (5.5 oz/156 g) tomato paste
1 cup light sour cream
2 tsp parsley
Preparation
Combine beef, half the oil, and Herb & Garlic Dip Mix in a medium mixing bowl. Season with Pepper.
Place a large frying pan over medium heat. Add half of the beef and cook for 3–4 minutes, stirring often. Remove beef from the pan and repeat.
Add mushrooms and cook for 5 minutes, or until golden. Add onion and continue to cook for an additional 5 minutes.
Return beef to the pan, add Gravy, tomato paste and sour cream. Bring just to a boil, reduce heat to medium-low and simmer for 15–20 minutes, or until sauce has reached desired consistency. Sprinkle with Parsley. Serve warm.
Nutritional Information
Per serving: Calories 190, Fat 9 g (Saturated 3 g, Trans 0 g), Cholesterol 45 mg, Sodium 75 mg, Carbohydrate 10 g (Fibre 2 g, Sugars 2 g), Protein 19 g.
Tips
Serve over egg noodles, gluten-free noodles, or mashed potatoes seasoned with Herb & Garlic Dip Mix.