Baked Churro French Toast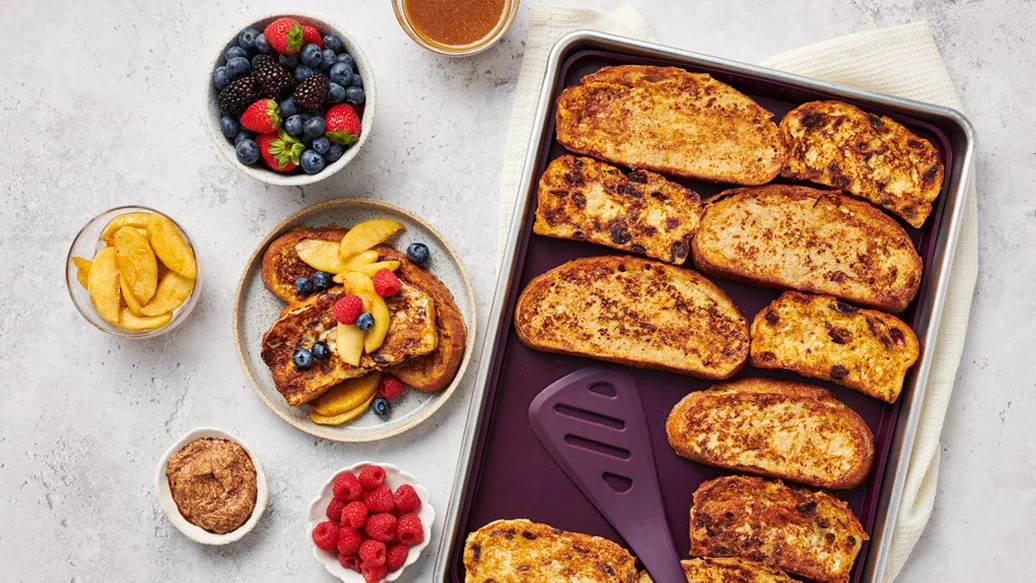 35 min
4 servings
$1.16/serving
Gooey, delicious, melt-in-your-mouth churro sheet pan French toast with cinnamon, cocoa, and sugar. So so good. This recipe is easier with thick-cut bread, such as sourdough or French baguette slices, or bread that is slightly stale. If using a thicker, sliced bread, you will need to add an extra 1⁄2 cup milk and 1 egg, and allow each slice to soak an extra 1—2 seconds.
Perfectly Balance Your Plate
Sprinkle with 2 tbsp roasted, unsalted almonds.
Ingredients
4 eggs
1 1⁄4 cup milk
8 slices bread
2 tbsp brown sugar
1 tbsp maple syrup
1 tbsp unsalted butter, softened
Toppings (optional): fresh berries, sautéed apples, maple syrup, caramel or chocolate fudge sauce, icing sugar, brown sugar
Preparation
Preheat oven to 350° F. Line Sheet Pan with Sheet Pan Liner.  
In a medium bowl, whisk together eggs, milk, and 1 tsp seasoning. Dip each slice of bread in egg mixture until lightly soaked and place on pan.  
In a small bowl, combine remaining seasoning, sugar, maple syrup, and butter with the back of a small spoon. Crumble or spread over bread slices.  
Bake 25 min, or until bread is toasted to your liking. Serve with additional toppings, if desired. 
Nutritional Information
Per serving: Calories 330, Fat 12 g (Saturated 5 g, Trans 0.2 g), Cholesterol 260 mg, Sodium 390 mg, Carbohydrate 42 g (Fibre 1 g, Sugars 19 g), Protein 14 g.