Baked Apple Cinnamon Yogurt Toast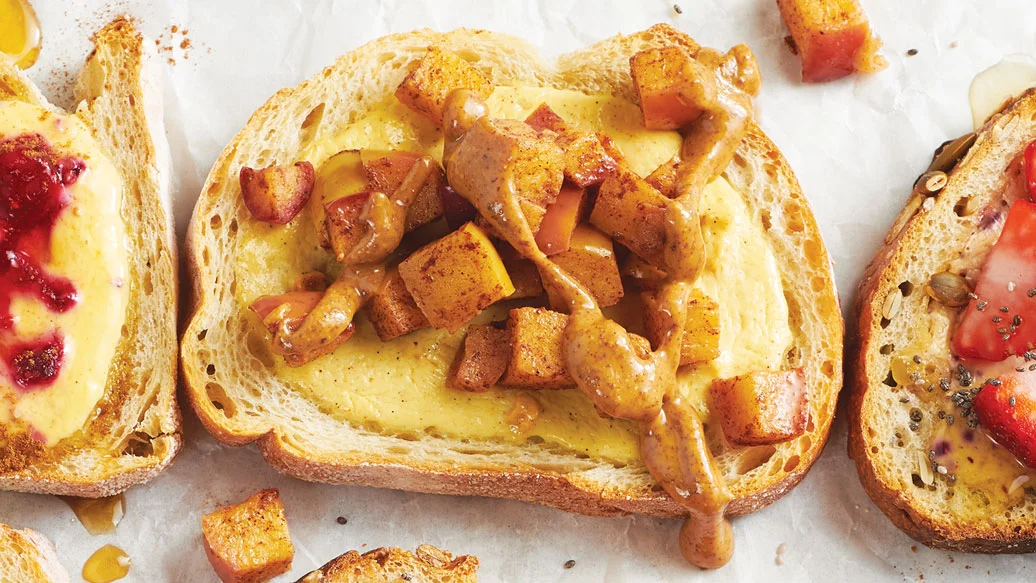 20 min
4 servings
$2.02/serving
This recipe is delicious with any choice of bread. Try it with slices of sourdough, whole grain, or challah.
Perfectly Balance Your Plate
Sprinkle toast with 2 tbsp roasted almonds.
Ingredients
8 slices bread, your choice
2 eggs
1 cup plain 2% Greek yogurt
2 tbsp Baked Apple Sweet Dip Mix
2 small apples such as Honeycrisp, Granny Smith, or Pink Lady
1 tbsp maple syrup
Toppings (optional): almond butter drizzle
Preparation
Preheat oven to 400° F. Line Sheet Pan with Sheet Pan Liner.  
Arrange bread on pan. Using a fork, gently press the middle of each slice to form a well.  
In 4-Cup Prep Bowl, whisk together eggs, yogurt, and dip mix. Scoop onto bread and spread evenly. Bake 15 min or until yogurt has set (not jiggly) and bread is toasty. 
Meanwhile, dice unpeeled apples; you should have about 2 cups. Place in Rectangular Steamer and stir in cinnamon. Microwave uncovered on high for 5 min, or until apples are tender. Remove steamer from microwave and stir in maple syrup.
When toast is ready, top with apple and syrup mixture. Drizzle almond butter on top, if desired. 
Nutritional Information
Per serving (2 slices): Calories 280, Fat 6 g (Saturated 2 g, Trans 0 g), Cholesterol 130 mg, Sodium 330 mg, Carbohydrate 45 g (Fibre 4 g, Sugars 18 g), Protein 13 g.
Tips
Before making toast, take almond butter out of the fridge to bring it to room temperature. This way, it will have a gooey consistency that will make it easy to drizzle it over toast.
If you want to caramelize your diced apples, cook on stovetop in Sauté Pan (rather than in microwave) with 1 tbsp unsalted butter until browned, about 5 min. Remove from heat before stirring in maple syrup.