Asparagus with Poached Eggs and Herb & Garlic Breadcrumbs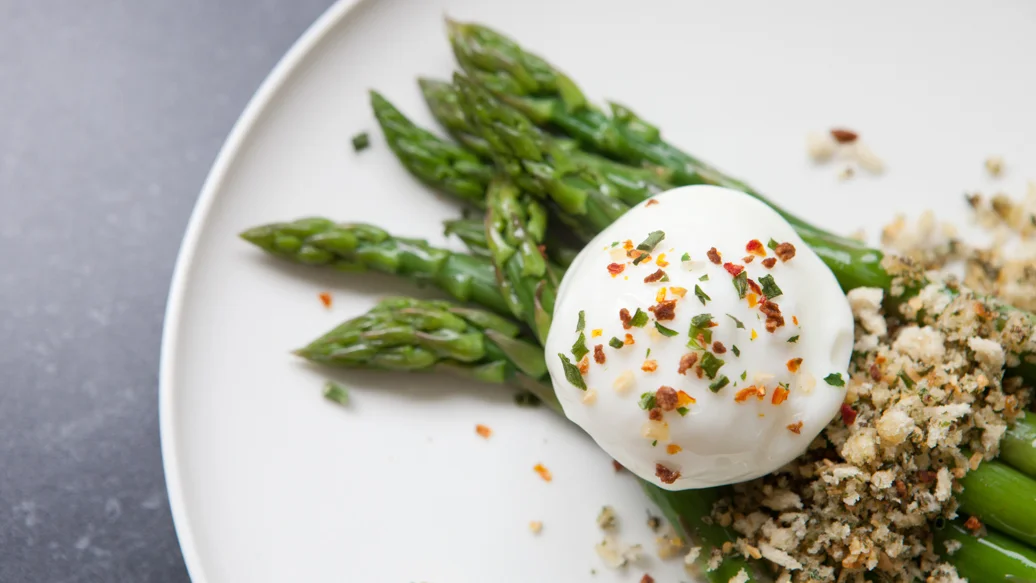 10 min
2 servings
$2.05/serving
Light and full of flavour. Perfect for Brunch, breakfast or a quick weeknight dinner.
Ingredients
1 bunch asparagus, trimmed
2 eggs
1⁄2 cup toasted breadcrumbs
olive oil, to taste
Preparation
Place asparagus in Rectangular Steamer and microwave for 2–3 minutes.
Fill 2 Prep Bowls with 1⁄2 cup of water each. Crack one egg into each bowl. Cover each with lid leaving one edge open. Microwave about 1 minute until yolk is gently set.
Stir breadcrumbs with Herb & Garlic Dip Mix, and set aside.
Divide asparagus and breadcrumbs between two plates. Place a poached egg on each and garnish with Better Than Bacon Topper and a drizzle of olive oil.
Nutritional Information
Per serving: Calories 160, Fat 6 g (Saturated 2 g, Trans 0 g), Cholesterol 235 mg, Sodium 210 mg, Carbohydrate 16 g (Fibre 6 g, Sugars 6 g), Protein 13 g.