Amelia's Vegan Shortbread Thumbprint Cookies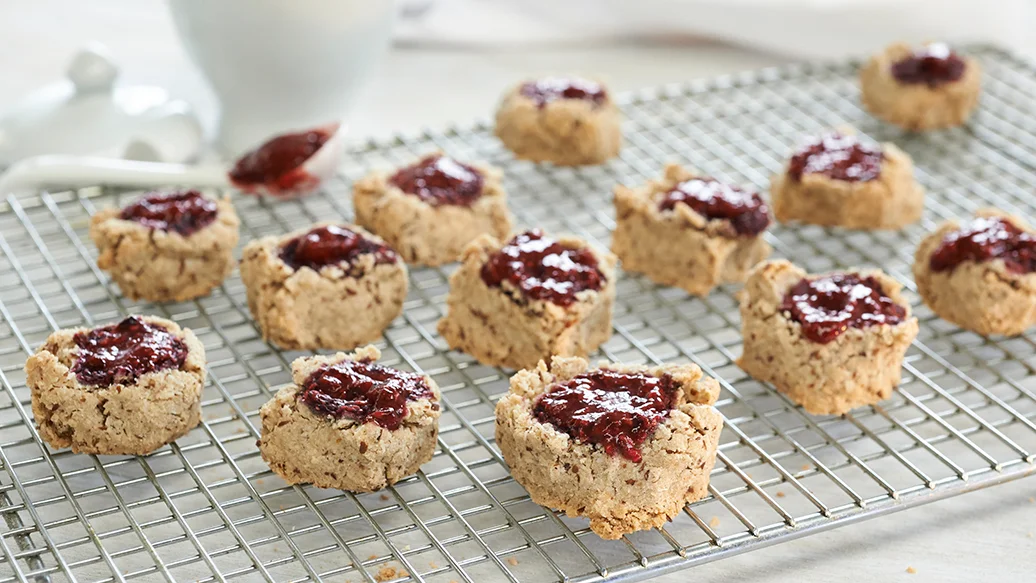 30 min
13 cookies
$0.70/serving
Who says vegans can't have fun (or dessert)? Try this delish vegan shortbread with raspberry jam kissed with Tutti Fruity Whole Food Topper.
Ingredients
1 1⁄2 cups rice or almond flour
1⁄2 cup unsweetened shredded coconut
1⁄4 cup ground flax seeds
1 tsp baking soda
1⁄4 cup coconut oil, melted
1⁄4 cup pure maple syrup
1 tsp pure vanilla extract
1⁄2 tsp pure almond extract
1⁄3 cup raspberry jam
2 tbsp Tutti Fruity Whole Food Topper
Preparation
Preheat oven to 350° F (175° C).
In a bowl, combine flour, coconut, flax seeds, baking soda, spice, and salt.
In a separate larger bowl, whisk together oil, maple syrup, vanilla, and almond extract.
Add flour mixture and combine until dough comes together.
Spoon approximately 2 tbsp of dough onto a Sheet Pan lined with a Sheet Pan Liner, leaving 1⁄2" between cookies. Press your thumb into the middle of each cookie. Fill each dent with jam, about 11⁄2 tsp per cookie.
Bake for 18–20 minutes, until bottoms brown lightly. Sprinkle with Tutti Fruity Whole Food Sprinkle, and once slightly cooled, gently move them to a cooling rack.
Nutritional Information
Per serving (1 cookie): Calories 140, Fat 6 g (Saturated 4.5 g, Trans 0 g), Cholesterol 0 mg, Sodium 110 mg, Carbohydrate 18 g (Fibre 2 g, Sugars 6 g), Protein 2 g.