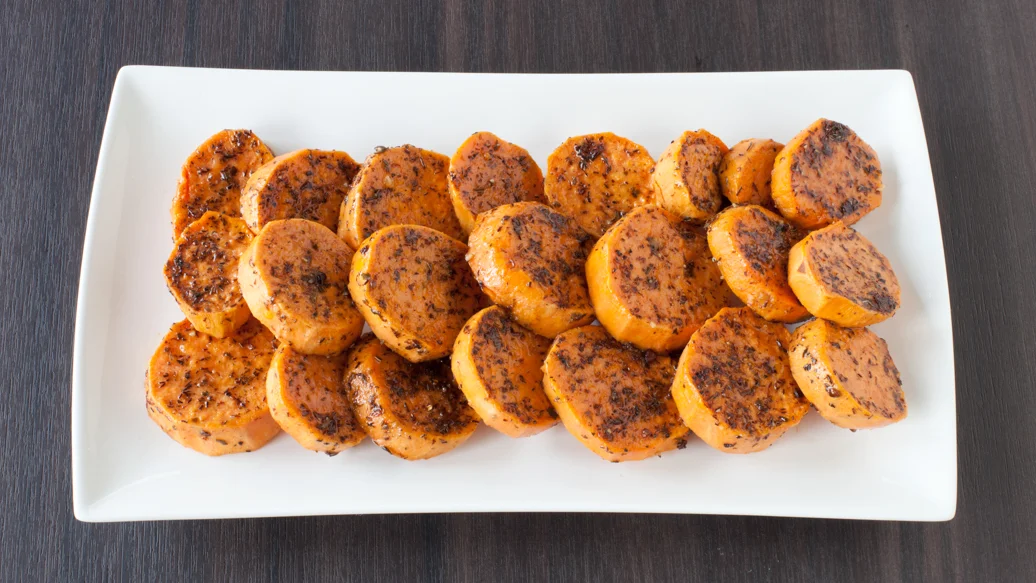 35 min
4 - 6 servings
$0.63/serving
Sweet and savoury flavours that leave you wanting more!
Ingredients
2 tbsp butter
1 tbsp After Ate Tea
4 medium yams or sweet potatoes
Sea Salt, to taste
Black Pepper, to taste
Preparation
Preheat oven to 425° F (220° C).
Set a frying pan over medium heat. Add butter and After Ate Tea. When butter foams, remove from heat and let infuse for 10 minutes.
Peel, wash, and slice yams into 1⁄2 inch rounds. Arrange on a Sheet Pan lined with a Sheet Pan Liner.
Brush slices with tea butter, then season with Sea Salt and Black Pepper. Bake until soft, approximately 25 minutes.
Nutritional Information
Per serving: Calories 140, Fat 4 g (Saturated 2.5 g, Trans 0 g), Cholesterol 10 mg, Sodium 440 mg, Carbohydrate 25 g (Fibre 4 g, Sugars 8 g), Protein 2 g.
Tips
Squeeze a little orange juice over the yams after cooking and garnish with chopped parsley or green onion and finely diced red pepper for that extra hit of colour and flavour.