1, 2, 3 Wacky Chocolate Cake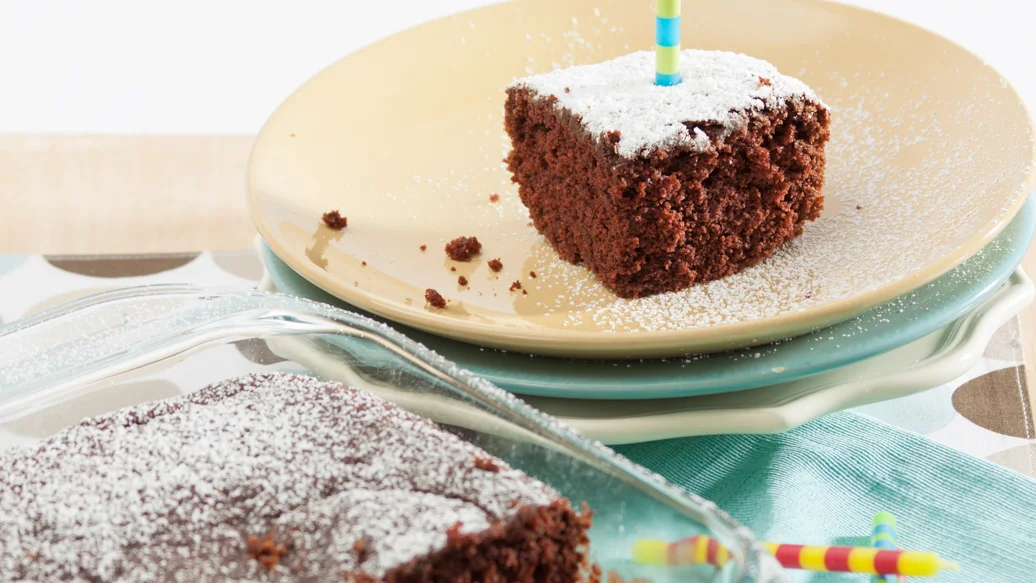 1 hr
8 servings
$0.70/serving
Kids love making this easy-bake cake!
Ingredients
1 1⁄2 cups all-purpose flour
1 cup sugar
1⁄4 cup cocoa powder
1 tsp baking powder
1 tsp baking soda
1⁄2 tsp salt
1 tsp vanilla extract
1 tsp vinegar
1⁄2 cup butter, melted
1 cup buttermilk
Preparation
Preheat oven to 350° F (175° C).
Sift first 6 ingredients into a 9" x 9" cake pan. Bang the pan on the counter and shake back and forth to level ingredients.
Make 3 hollows in the mixture with a wooden spoon. Pour vanilla extract into one, vinegar into another and butter into the third.
Pour buttermilk over all. Stir until well-blended and no flour shows. Bang the pan on counter again to level batter.
Bake 30 minutes and leave in pan to cool.
Sift icing sugar over cake with a strainer.
Nutritional Information
Per serving: Calories 270, Fat 12 g (Saturated 7 g, Trans 0.3 g), Cholesterol 30 mg, Sodium 450 mg, Carbohydrate 39 g (Fibre 1 g, Sugars 20 g), Protein 4 g.
Tips
No buttermilk? No problem! Combine 1 cup milk and 1 tbsp lemon juice or vinegar and let stand 5 minutes. Voilà! Enjoy with ice cream.