Twice-baked Baby Potatoes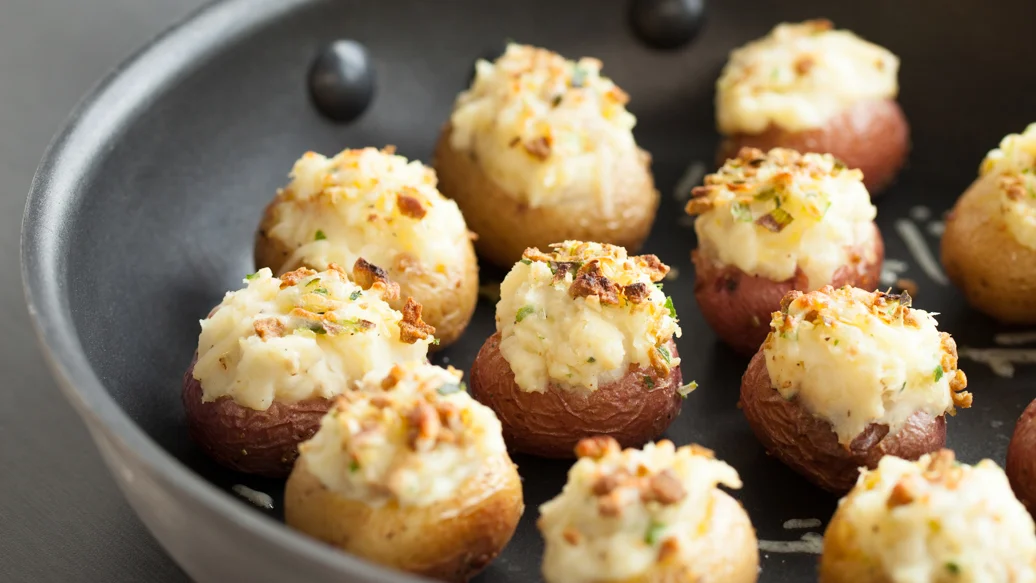 30 min
24 servings
$0.26/serving
Looking for an appy to serve at your next gathering? We've got you covered! These baby potatoes are deliciously cheesy and garlicky but low in sodium. Thanks to your Multipurpose Steamer, they're quick and easy to prepare, too! Top the potatoes with Better Than Bacon Topper or extra dip mix.
Ingredients
24 baby Yukon Gold or red potatoes, approximately 2" across
2 tbsp olive oil
Sea Salt, coarsely ground, to taste
Black Pepper, coarsely ground, to taste
1⁄2 cup sour cream
1⁄2 cup coarsely grated Parmesan cheese
Preparation
Preheat oven to 450° F. 
Place potatoes in Multipurpose Steamer. Toss to coat with oil and seasoning. Season with Salt and Pepper. Cover and microwave on high for 5–7 min, until easily pierced with a fork. Let cool for 10 minutes. 
Place potatoes on Sheet Pan lined with Sheet Pan Liner. Slice off and discard potato tops. Using a very small spoon or a melon baller, scoop the flesh into a separate bowl. Mash with a fork, then combine with sour cream and dip mix. 
Spoon mixture back into potato shells and sprinkle with Parmesan. Bake for 8–10 minutes. 
Nutritional Information
Per serving: Calories 70, Fat 2.5 g (Saturated 1 g, Trans 0 g), Cholesterol 5 mg, Sodium 55 mg, Carbohydrate 10 g (Fiber 2 g, Sugars 1 g), Protein 2 g.