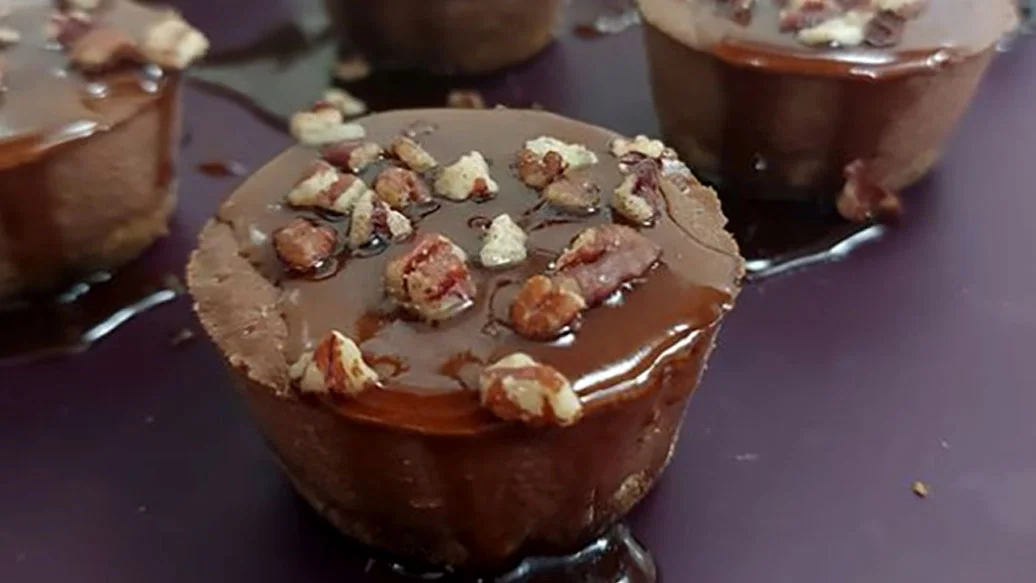 Thank you, Stacey Anne Whitehead, for this recipe!
Ingredients
CHEESECAKE
1 cup graham cracker crumbs
1⁄4 cup melted butter
1 brick (8 oz/250 g) cream cheese, softened
1 pkg Chocolate Mud Pie Mix
2 eggs
1 cup vanilla 2% Greek yogurt
CARAMEL
1 pkg Caramel Sauce Mix
1 cup whipping cream
1⁄4 cup butter
Topping (optional): chopped pecans
Preparation
Preheat oven to 325° F.
In a 4-Cup Prep Bowl, combine graham cracker crumbs and melted butter. Press into bottom of Muffin Maker cavities.
Using a hand mixer, beat cream cheese with Chocolate Mud Pie Mix on medium-high speed until smooth. Beat in eggs and yogurt. Scoop mixture into Muffin Maker, filling cavities approximately 1⁄2 full.
Bake 25 min, or until set. Let cool completely before unmolding.
Meanwhile, whisk Caramel Sauce Mix with cream and butter in a Multipurpose Pot. Bring to a boil, stirring often. Reduce heat to medium and simmer 4 min, stirring often, until slightly thickened. Drizzle sauce over cheesecakes. Add chopped pecans, if desired.
Nutritional Information
Per serving: Calories 0, Fat 0 g (Saturated 0 g, Trans 0 g), Cholesterol 0 mg, Sodium 0 mg, Carbohydrate 0 g (Fiber 0 g, Sugars 0 g), Protein 0 g.