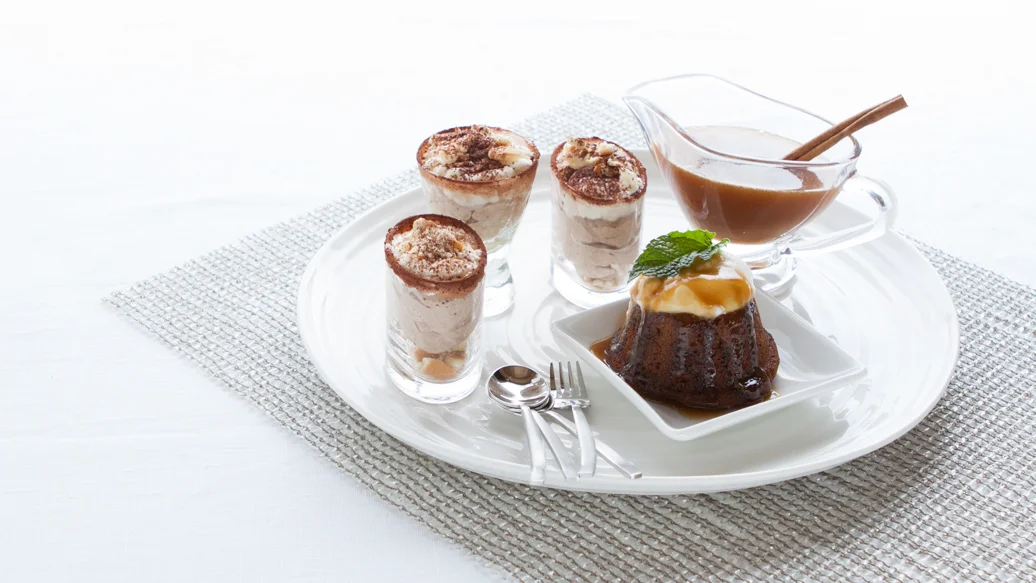 55 min
24 servings
$0.71/serving
Ingredients
PUDDING
2 cups finely chopped, pitted dates
1 tsp baking soda
2 cups all-purpose flour
1 tsp baking powder
1 tsp salt
1⁄2 cup unsalted butter, at room temperature
1 1⁄2 cups packed brown sugar
3 eggs
1 tsp vanilla extract
SAUCE
1⁄2 cup unsalted butter
3 cups brown sugar
2 cups whipping cream
1 tsp vanilla extract
1⁄4 tsp salt
Preparation
Preheat oven to 350° F (175° C).
Brush two Muffin Makers with oil.
Place dates in Multipurpose Pot - 8 cup and cover with 1 cup water. Bring to a boil. Reduce heat and simmer, uncovered, until dates are soft and have absorbed all water. Remove from heat. Stir in baking soda and let stand for 15 minutes.
Meanwhile, sift flour with baking powder, Apple Pie Spice, and salt.
In a separate bowl, beat butter until smooth using an electric mixer. Beat in sugar until light and fluffy. Beat in eggs, then vanilla extract. Stir in dates (plus any liquid). Using Epicure's Corner Spatula, gently fold in flour mixture just until mixed.
Spoon into muffin cups, filling to about two-thirds full. Bake for about 20 minutes, until a toothpick inserted in centre of a pudding comes out clean.
While puddings bake, prepare sauce. Melt butter in frying pan. Stir in sugar, then cream. Gently simmer for 10-15 minutes, until sauce thickens. Remove from heat and stir in vanilla extract and salt.
When puddings are baked, let rest for 10 minutes, then turn out onto Cooling Racks and cool completely. To serve, place puddings on small plates and generously drizzle with sauce.
Nutritional Information
Per serving: Calories 340, Fat 13 g (Saturated 8 g, Trans 0.4 g), Cholesterol 60 mg, Sodium 135 mg, Carbohydrate 57 g (Fiber 1 g, Sugars 47 g), Protein 3 g.
Tips
Make Ahead: Cool completely, then wrap puddings individually and freeze up to 3 months. Portion sauce into smaller quantities and freeze in small containers. Reheat in a low temperature oven, or microwave before serving.