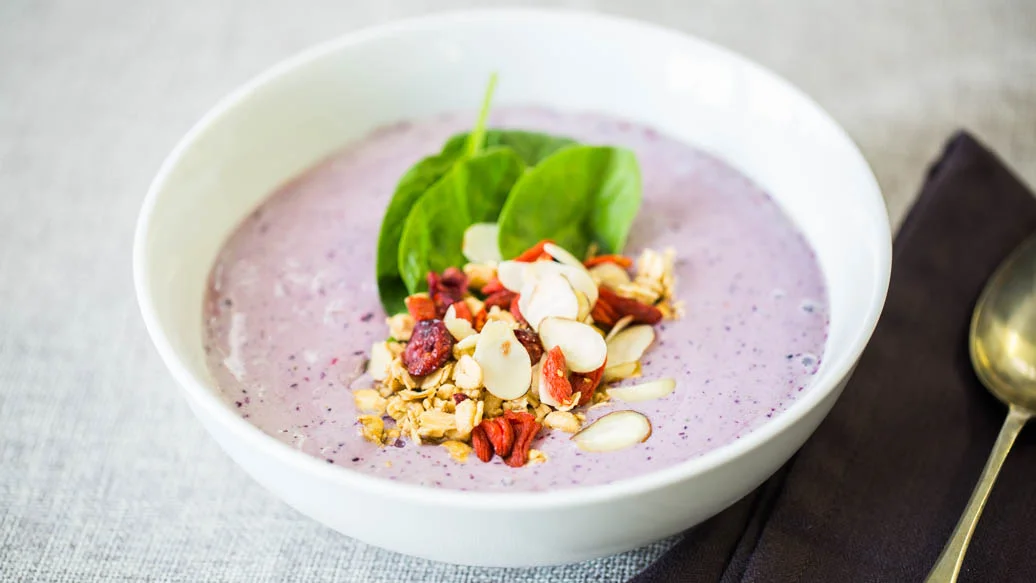 5 min
1 serving
$1.13/serving
Make your smoothie and eat it too. Perfect for those who like to eat instead of sip breakfast. This substantial breakfast bowl is sure to keep you full until lunch.
Ingredients
1 cup 2% plain Greek yogurt
1 cup frozen blueberries
1 cup mixed greens
1⁄2 cup 2 % milk, or dairy-free alternative
2 tbsp low-fat granola
1 tbsp nuts
Tutti Fruity Whole Food Topper or Cocoa Crunch Whole Food Sprinkle, optional
Preparation
In a blender, combine all ingredients except granola and nuts. Blend until smooth—if you like it thicker, add ice cubes; for a thinner consistency, add water.
Transfer to a bowl. Top with granola, nuts and whole food sprinkle, if desired. Serve.
Nutritional Information
Per serving: Calories 420, Fat 11 g (Saturated 5 g, Trans 0 g), Cholesterol 25 mg, Sodium 270 mg, Carbohydrate 56 g (Fiber 7 g, Sugars 38 g), Protein 29 g.