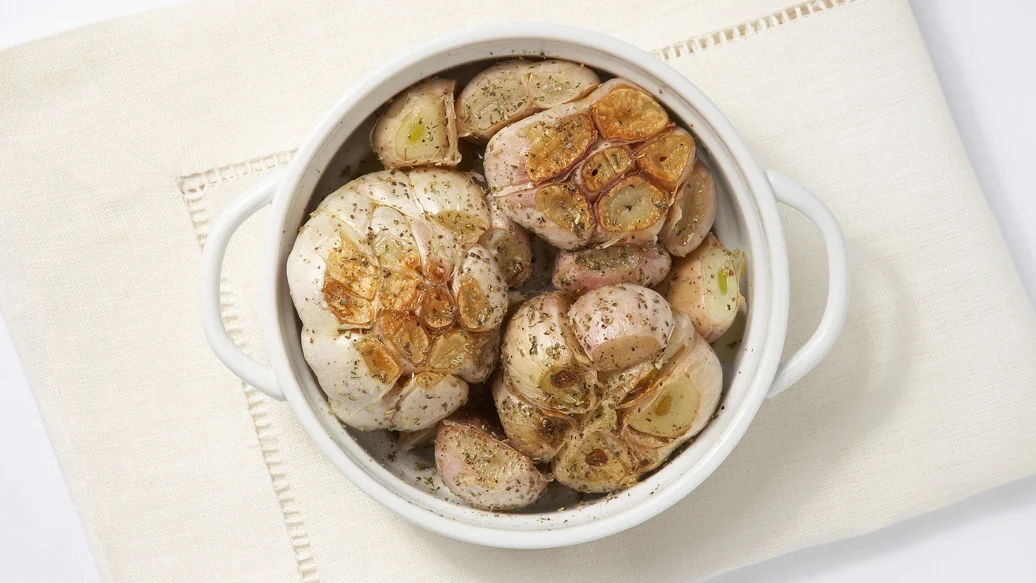 35 - 45 min
24 servings
$0.17/serving
Garlic is a powerful antioxidant, boosting the immune system.
Ingredients
3 medium garlic bulbs
2 tbsp olive oil
Sea Salt, coarsely ground, to taste
Black Pepper, coarsely ground, to taste
Preparation
Preheat oven to 350° F (175° C).
Trim top and bottom of garlic bulbs and place in a mini baker.
Drizzle with oil and add Salt, Pepper and Dip Mix to taste. Cover and bake for 30–40 minutes, or until garlic is soft and tender.
When cooled, gently squeeze each clove to extract garlic.
Nutritional Information
Per serving: Calories 15, Fat 1 g (Saturated 0 g, Trans 0 g), Cholesterol 0 mg, Sodium 0 mg, Carbohydrate 1 g (Fiber 0 g, Sugars 0 g), Protein 0 g.
Tips
Serving Suggestions:
Spread on crackers or toasted French baguette rounds
Mash with Pesto Sauce Mix or tapenade herbs for a delicious spread
Add to mashed potatoes
Mix with butter for great garlic bread
Insert under chicken skin before roasting