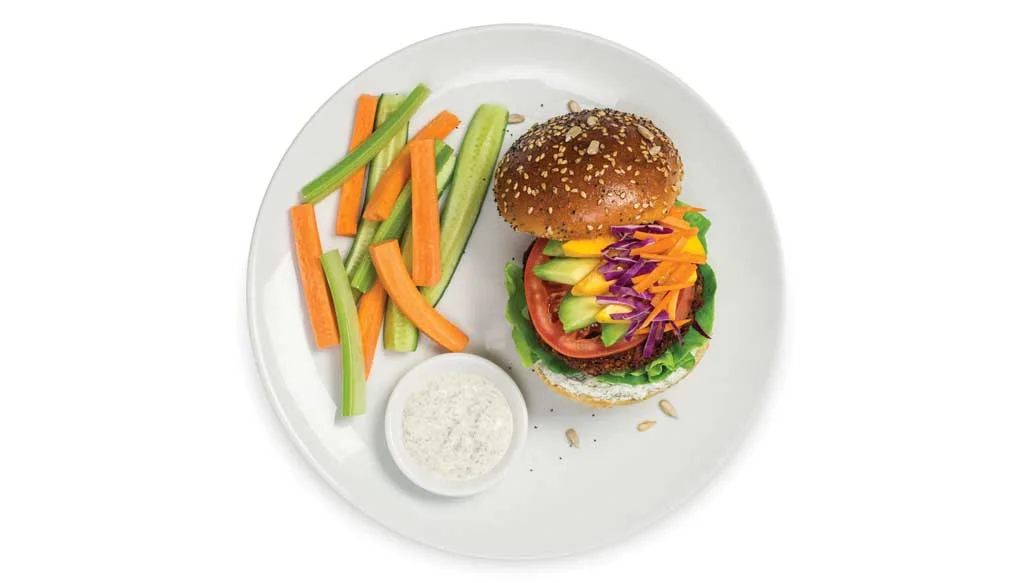 20 min
4 servings
$1.94/serving
Perfectly Balance Your Plate
Serve with 1 cup mixed veggies.
Ingredients
1 pkg Veggie Burger Mix
1 cup cooked quinoa
1 cup grated raw beets
1⁄2 cup hot water
3 tbsp lemon juice
2 tbsp vegetable oil
4 buns, split
Topping Suggestions (optional): sliced tomatoes, sliced mango, sliced avocado, grated carrots, shredded red cabbage, lettuce leaves
Preparation
In a bowl, combine first 5 ingredients. Let stand for 5 min.
Preheat frying pan over medium heat. Add oil. Scoop batter into pan, making four burgers. Lightly press and flatten into shape. Cook until golden brown, about 5-7 min per side.
Spread bottom halves of buns with dip, then add patties. Finish with toppings of choice. Cover with top bun halves.
Nutritional Information
Per serving: Calories 430, Fat 15 g (Saturated 2 g, Trans 0 g), Cholesterol 62 mg, Sodium 660 mg, Carbohydrate 62 g (Fiber 13 g, Sugars 11 g), Protein 15 g.
Tips
To make Lemon Dilly Dip vegan-friendly, simply omit the sour cream and use vegan yogurt.