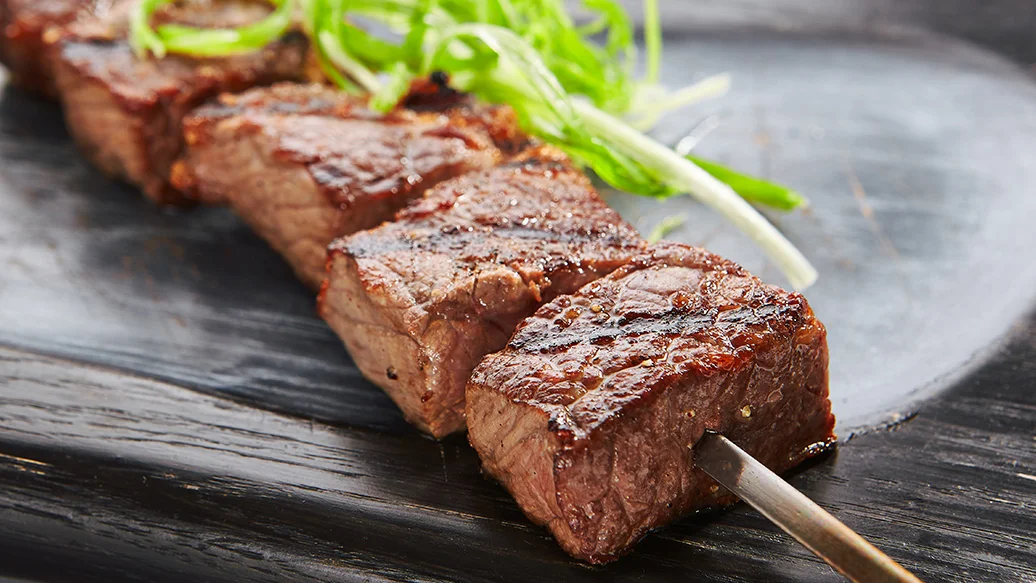 10 min (+ marinade)
4 servings
$2.19/serving
Rather than a big roast, try these lighter, easier, oven-broiled skewers.
Perfectly Balance Your Plate
Serve with a dinner roll and 2 cups leafy greens with 1 tbsp Epicure Dressing.
Ingredients
1⁄4 cup low-sodium beef broth , prepared
1 lb (450 g) beef sirloin or beef tenderloin, sliced into thin strips
Sea Salt, to taste
Black Pepper, to taste
Preparation
Combine first 3 ingredients in Multipurpose Pot. Heat until Red Pepper Jelly melts and flavours are combined. Cool to room temperature.
Add beef to marinade. Refrigerate a minimum of two hours, or overnight.
Soak bamboo skewers in water for a minimum of 1 hour.
Thread marinated beef onto Skewers and season with Sea Salt and Pepper.
Preheat oven to broil and cook skewers to desired doneness, approximately 1–3 minutes per side.
Pour remaining marinade into pot, heat to boiling and simmer until reduced by half. Brush marinade over broiled skewers and serve.
Nutritional Information
Per serving: Calories 270, Fat 8 g (Saturated 3 g, Trans 0 g), Cholesterol 75 mg, Sodium 85 mg, Carbohydrate 13 g (Fiber 0 g, Sugars 12 g), Protein 32 g.