Piña Colada Pineapple Pizza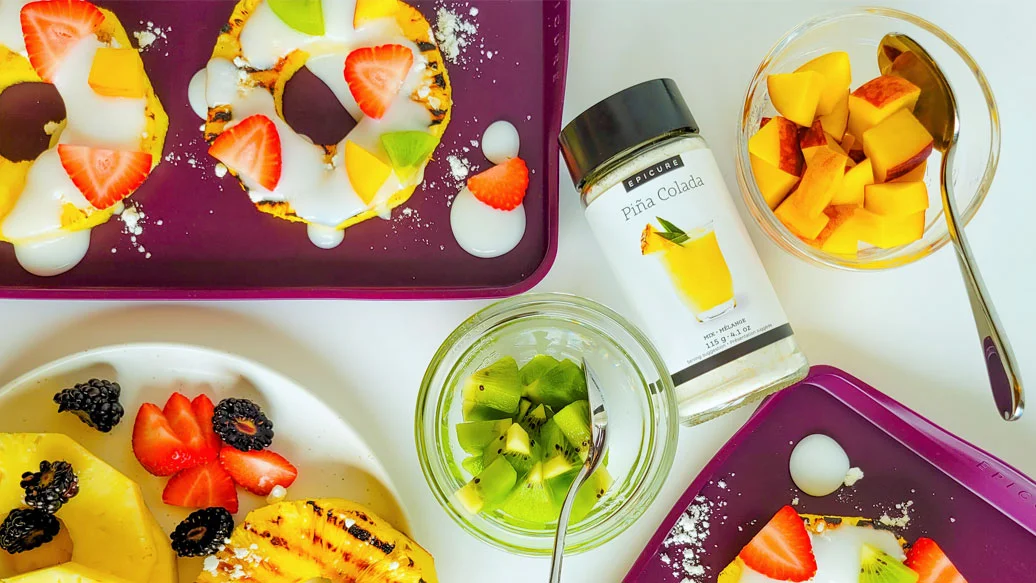 15 min
8 servings
$0.84/serving
This is a fun dessert for kids! Have fun topping pizza with fruit your family loves. For young chefs, contain the mess using 1⁄4 Sheet Pan Liners as a placemat.
Ingredients
1 cup 2% plain or vanilla Greek yogurt
2 tbsp Piña Colada Mix
1 pineapple, peeled and cored
1 cup chopped mixed fruit, such as kiwi, peaches
1 cup raspberries or blueberries
Preparation
In a bowl, stir together yogurt and mix. Set aside.
If necessary, peel and core pineapple. Slice into 8 rounds. Chop fresh fruit for the toppings and arrange them in Prep Bowls.
Spread about 2 tbsp yogurt on each slice of pineapple. Let everyone add their own toppings!
Nutritional Information
Per serving: Calories 90, Fat 1.5 g (Saturated 1 g, Trans 0 g), Cholesterol 5 mg, Sodium 25 mg, Carbohydrate 19 g (Fiber 2 g, Sugars 14 g), Protein 3 g.
Tips
Lightly coat both sides of pineapple slices with oil, then grill 3-4 mins each side to soften pineapple and add to the sweetness.
Berries can be expensive, try looking for the ones that are on sale or defrost frozen berries.