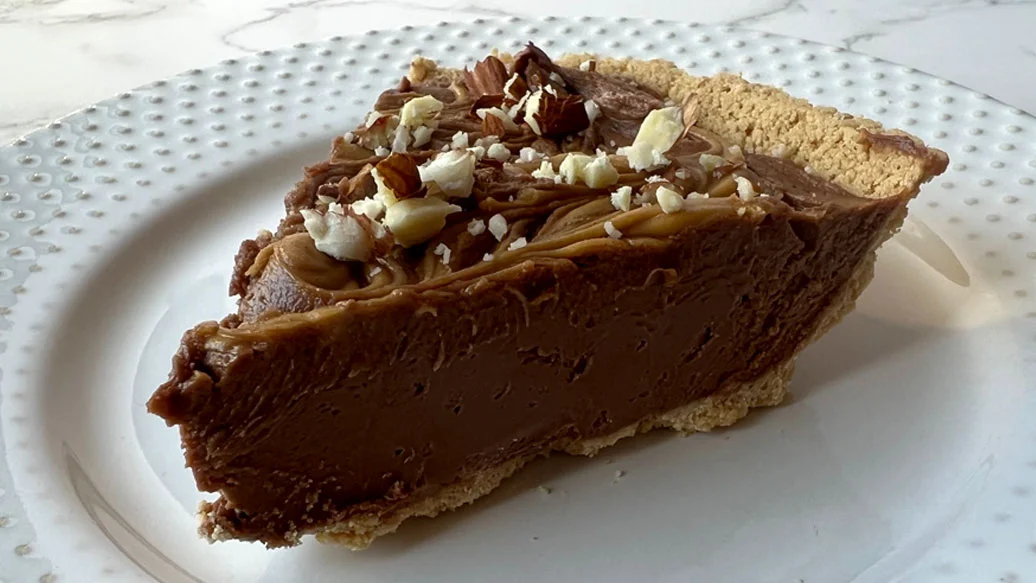 1 hr 20 min (includes 1 hr chilling)
12 servings
Thank you to one of our Epicure consultants for this recipe! 
Ingredients
12–18 peanut butter cookies, or cookies of your choice
3 tbsp melted butter or coconut oil
1 pkg Chocolate Mud Pie Mix
1 can (14 oz/398 ml) light coconut milk
1 cup non-dairy yogurt or plain 2% yogurt
1⁄4 cup nut or seed butter
1⁄2 cup chopped nuts or seeds, such as peanuts, cashews, walnuts, or almonds
Preparation
Preheat oven to 350° F.
Crush cookies into fine pieces and place in a large bowl. Combine with butter. Press cookie mixture into pie plate.
Bake 10 min, until golden. Allow to cool completely.
Meanwhile, in a Multipurpose Pot, whisk mix with coconut milk. Bring to a boil over medium-high heat, stirring frequently. Immediately remove from heat. Whisk in yogurt.
In a Prep Bowl, combine nut butter with 1⁄2 cup of mud pie mixture.  
Pour remaining mixture into cooled pie shell; smooth top. Dollop nut butter mixture over top. Using a toothpick or butter knife, swirl to desired look.
Refrigerate until cool. Sprinkle with nuts before serving.
Nutritional Information
Per serving: Calories 0, Fat 0 g (Saturated 0 g, Trans 0 g), Cholesterol 0 mg, Sodium 0 mg, Carbohydrate 0 g (Fiber 0 g, Sugars 0 g), Protein 0 g.