Luscious Lemon Curd Icing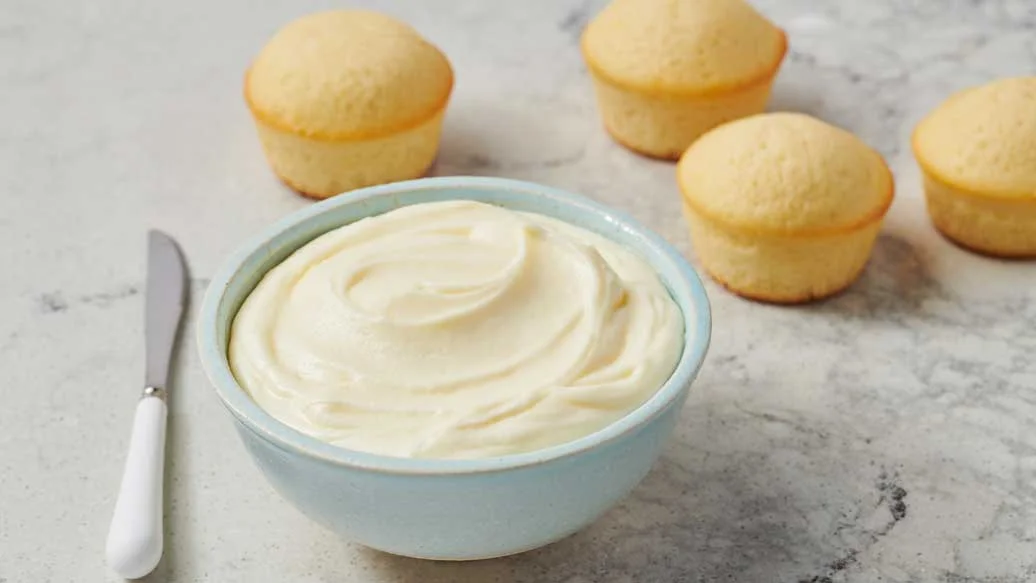 10 min (using prepared lemon curd)
1 1/2 cups for 24 servings
$0.12/serving
To streamline prep, make the lemon curd a day before using. That way, the recipe comes together quickly. 
Ingredients
Lemon Curd:
3 eggs
1⁄2 cup water
1 tbsp butter, optional
Icing:
1⁄2 block (8oz/226 g) cream cheese, softened
2 tbsp butter, softened
2 cups icing sugar
2 - 3 tbsp prepared Luscious Lemon Curd
Preparation
For the curd, in a 4-Cup Prep Bowl, whisk eggs until foamy. Add mix and water; whisk until well combined. Microwave, uncovered, on high for 2 min, until thickened, whisking halfway through and at the end. If the curd has not thickened after 2 min, cook for additional 30 sec intervals, whisking after each, until desired thickness is achieved. Whisk in butter, if desired. Cover; refrigerate for at least 1 hour, or until cooled.  
For the icing, in a bowl, using an electric mixer, beat cream cheese and butter until blended.  
Add icing sugar and lemon curd. Beat on low just until mixed, scraping down the side of bowl as needed. Overbeating will make icing too soft.  
Spread icing onto baked goods as desired. If making ahead, cover and refrigerate up to 3 days.  
Nutritional Information
Per serving (1 tbsp): Calories 70, Fat 2.5 g (Saturated 0.1 g, Trans 0.1 g), Cholesterol 10 mg, Sodium 20 mg, Carbohydrate 11 g (Fiber 0 g, Sugars 10 g), Protein 0.4 g.
Tips
This recipe makes 1 1⁄2 cups icing – that's about 24 tbsp. Use 1–2 tbsp for topping cupcakes.