Grilled Summer Vegetables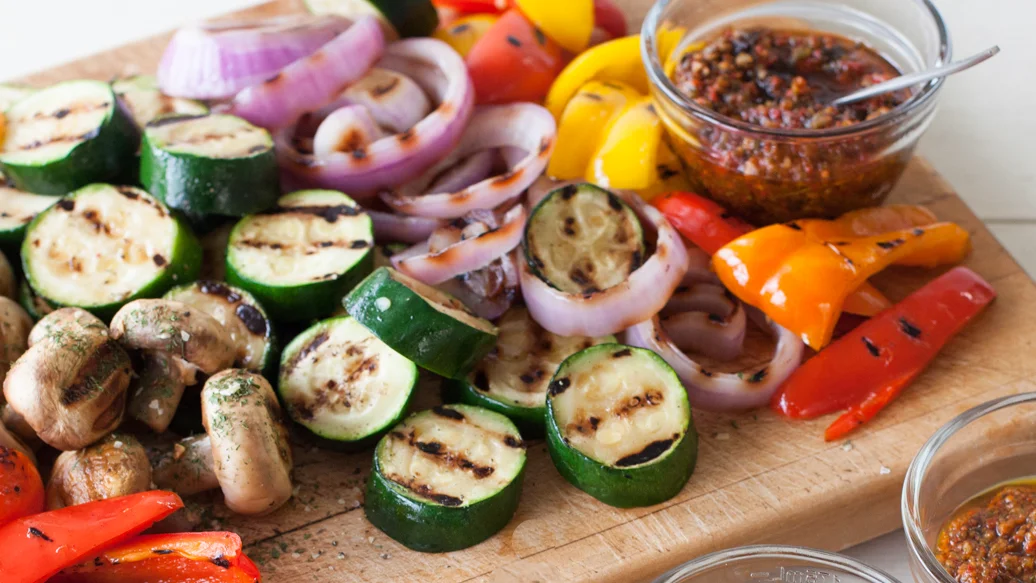 16 - 18 min
4 - 6 servings
$1.17/serving
 A great way to serve up seasonal vegetables at your next gathering.
Ingredients
2 bell peppers, cut into thick strips
2 medium zucchinis, sliced 1/4" thick
1 medium onion, sliced 1/4" thick
3 tbsp olive oil
1 tbsp balsamic vinegar
Sea Salt, to taste
Black Pepper, to taste
Preparation
Preheat barbecue to medium-high.
Toss vegetables with oil. Place in a grilling pan.
Cook for 5 minutes, then turn using Grip & Grab. Continue cooking to lightly char vegetables, shaking pan frequently.
Drizzle with balsamic vinegar. Liberally shake Garlicky Dill Topper overtop and season with Sea Salt and Black Pepper. Remove from heat and serve.
Nutritional Information
Per serving: Calories 100, Fat 7 g (Saturated 1 g, Trans 0 g), Cholesterol 0 mg, Sodium 5 mg, Carbohydrate 8 g (Fiber 2 g, Sugars 3 g), Protein 3 g.