Grilled Maple Miso Chicken Skewers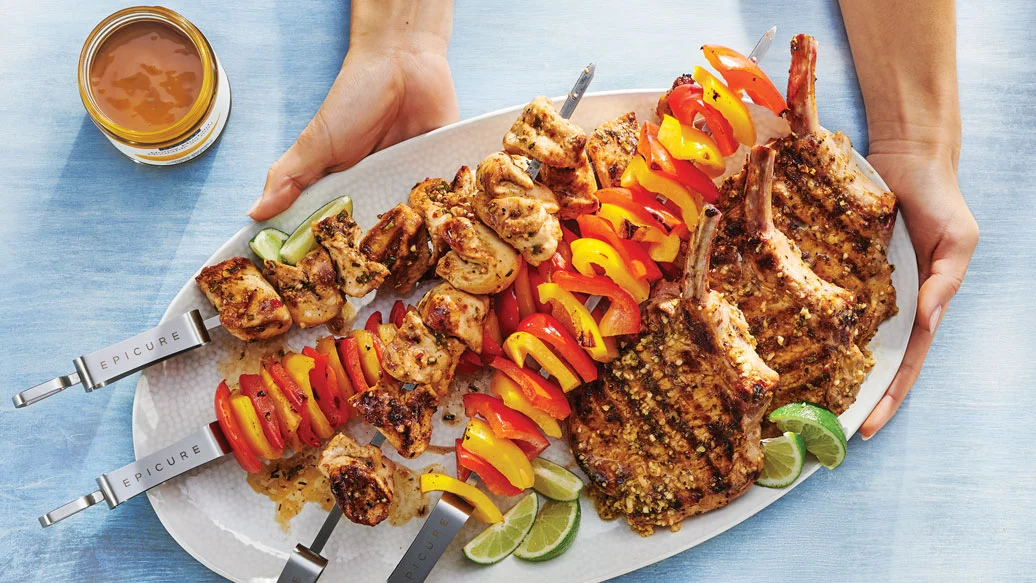 1 hr & 20 min (includes 1 hr marination)
4 servings
$1.90/serving
Marinades and meal prep go hand in hand. Marinate protein ahead of time as you prep for the week. When it's time to grill, you'll have dinner on the table in 20 min!
Perfectly Balance Your Plate
Serve with 1 cup rice and 1 cup grilled veggies.
Ingredients
2 tbsp Maple Miso Marinade Mix
1⁄4 cup rice vinegar
2 tbsp maple syrup
2 tbsp oil + more for brushing
1 lb (450 g) boneless, skinless chicken
Toppings (optional): drizzle of Maple Miso Marinade
Preparation
In Round Steamer or Multipurpose Steamer, whisk together marinade mix, vinegar, maple syrup, and oil.
Cut chicken into 1" cubes. Add to steamer; stir to coat. Cover; marinate at least 1 hour or overnight. Discard marinade.
Preheat grill to medium-high. Lightly brush grill with oil to prevent sticking.
Line Sheet Pan with Sheet Pan Liner.
Thread chicken onto Grill Boss Skewers. Place on pan and head to the grill.
Place skewers on grill and cook, with lid closed, 8–10 min, rotating often, until lightly charred and cooked through.
Remove Sheet Pan Liner from pan. Place skewers on Sheet Pan. Drizzle with additional freshly prepared marinade, if desired.
Nutritional Information
Per serving: Calories 230, Fat 10 g (Saturated 1.5 g, Trans 0 g), Cholesterol 65 mg, Sodium 160 mg, Carbohydrate 10 g (Fiber 0 g, Sugars 8 g), Protein 23 g.
Tips
Make use of the Sheet Pan and Sheet Pan Liner when heading to the grill. Place uncooked meat on the liner; remove liner once food hits the grill and use the Sheet Pan as a clean, food-safe tray to bring cooked food back inside or to the table.