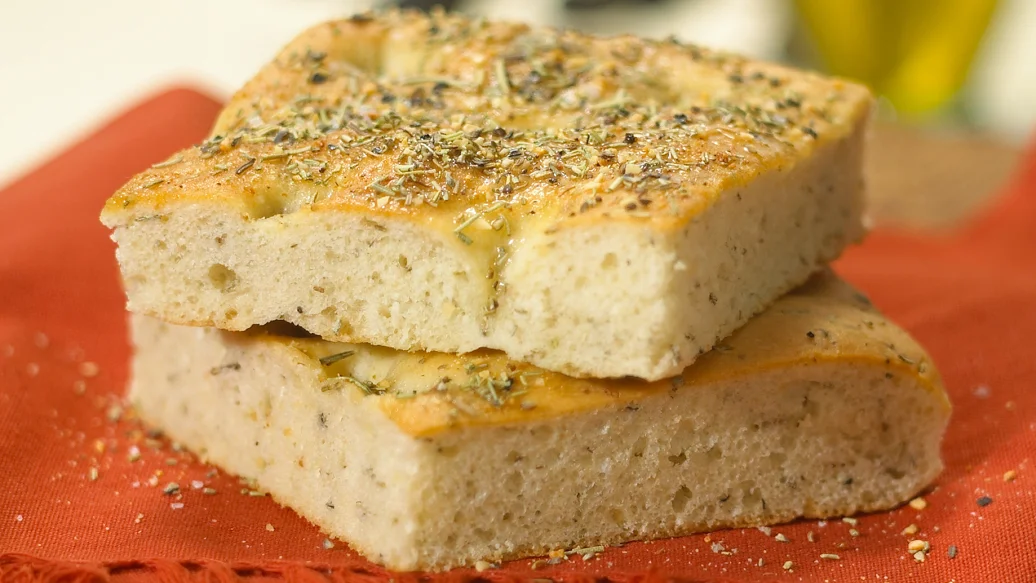 1 hr 15 min
1 loaf (8 slices)
$0.61/serving
This recipe makes an amazing pizza dough too.
Ingredients
1 tbsp sugar
1 cup warm water
2 pkg active dry yeast
1⁄3 cup olive oil, plus more to brush Sheet Pan and dough
1 cup hot water
2 tsp Sea Salt
4 cups flour
cornmeal, to taste
Sea Salt, to taste
Preparation
In a small bowl, dissolve sugar in warm water and stir in yeast. Let sit 5 minutes.
In a large mixing bowl, soften Rosemary Garlic Seasoning in olive oil and hot water. Let cool to lukewarm, then Salt and combine with yeast mixture. Stir in flour, 1 cup at a time.
On a floured surface, knead dough until smooth, approximately 4 minutes. Let rest 5 minutes.
Using a basting brush, brush Sheet Pan with olive oil, and sprinkle with cornmeal.
Roll out dough and transfer onto Sheet Pan. Generously brush with olive oil and let rise 40 minutes.
Preheat oven to 425° F (220° C).
Drizzle dough with olive oil and sprinkle with Rosemary Garlic Seasoning and Sea Salt. Bake for 20–25 minutes, until golden.
Nutritional Information
Per serving: Calories 340, Fat 10 g (Saturated 1.5 g, Trans 0 g), Cholesterol 0 mg, Sodium 560 mg, Carbohydrate 55 g (Fiber 3 g, Sugars 2 g), Protein 8 g.
Tips
Slice Focaccia into 'fingers' or small squares that are easy to pick up, dip, mop sauces, or munch plain. 
Focaccia is also perfect for pizza crusts and paninis.
Gluten-free Tip: Swap flour for Epicure Basic Gluten-Free Flour Mix or your favourite gluten-free flour.