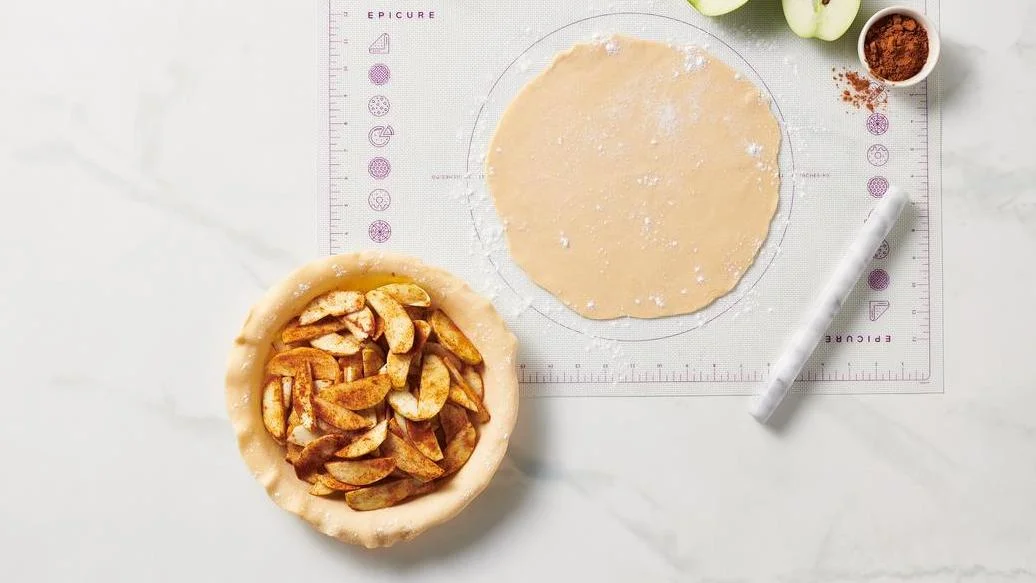 25 min (including 20 min refrigeration)
1 pie dough (8 servings)
Ingredients
1⁄4 cup cold, unsalted butter
1 pkg Easy As Pie Dough Mix, divided
3 tbsp ice water
Preparation
Chop butter into cubes.
In a food processor, add 1 cup dough mix. Set remaining mix aside for dusting. Add cubed butter and pulse to form coarse crumbs. Pulse in ice water, 1 tbsp at a time, until dough starts to form a ball.
Lightly dust counter with half of reserved mix. Turn dough onto counter. Using your hands, gently knead dough to form into a ball. Press to flatten into a disc. Wrap in plastic wrap and refrigerate 20 min.
Lightly dust Marble Rolling Pin and Pastry Mat (or counter) with remaining mix. Roll dough into a 10" circle. Gently transfer to an 8" pie plate.
Bake according to your choice of pie recipe.
Nutritional Information
Per serving: Calories 110, Fat 6 g (Saturated 3.5 g, Trans 0.2 g), Cholesterol 15 mg, Sodium 80 mg, Carbohydrate 12 g (Fiber 1 g, Sugars 1 g), Protein 1 g.