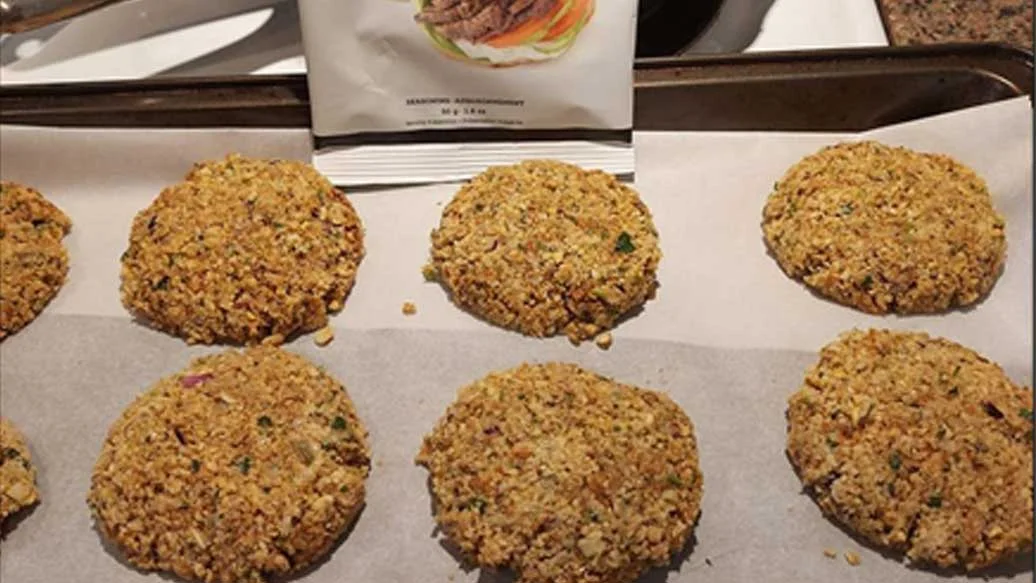 40 min
12 servings
$0.80/serving
A deliciously creative way to use Donair Seasoning. Chickpeas make the bulk of this recipe – they're full of fibre and an inexpensive protein (especially if you buy dried). Thank you, Theresa Minnion Wiebe, for this recipe!
Ingredients
1 lb (450 g) dried chickpeas, soaked in water at least 24 hrs
1⁄2 cup fresh parsley
1⁄4 red onion
4 cloves garlic
Preparation
Preheat oven to 375° F. Drain chickpeas. Roughly chop parsley, onion, and garlic. 
In a food processor, add chickpeas, parsley, onion, garlic, and seasoning. Blend until crumbly but not chunky.  
Line a Sheet Pan with parchment paper and brush with olive oil. Using Prep Pro Scoop (1⁄4 cup) or a large ice cream scoop, form chickpea balls. Place on lined sheet pan 2" apart and flatten. Bake until browned on top, about 30 min. 
Nutritional Information
Per serving: Calories 170, Fat 2.5 g (Saturated 0.3 g, Trans 0 g), Cholesterol 0 mg, Sodium 530 mg, Carbohydrate 29 g (Fiber 5 g, Sugars 4 g), Protein 9 g.
Tips
If you have a smaller food processor, blend in two batches. Make sure ingredients are equally doled out.