Cucumber Spiral Shrimp Salad Rolls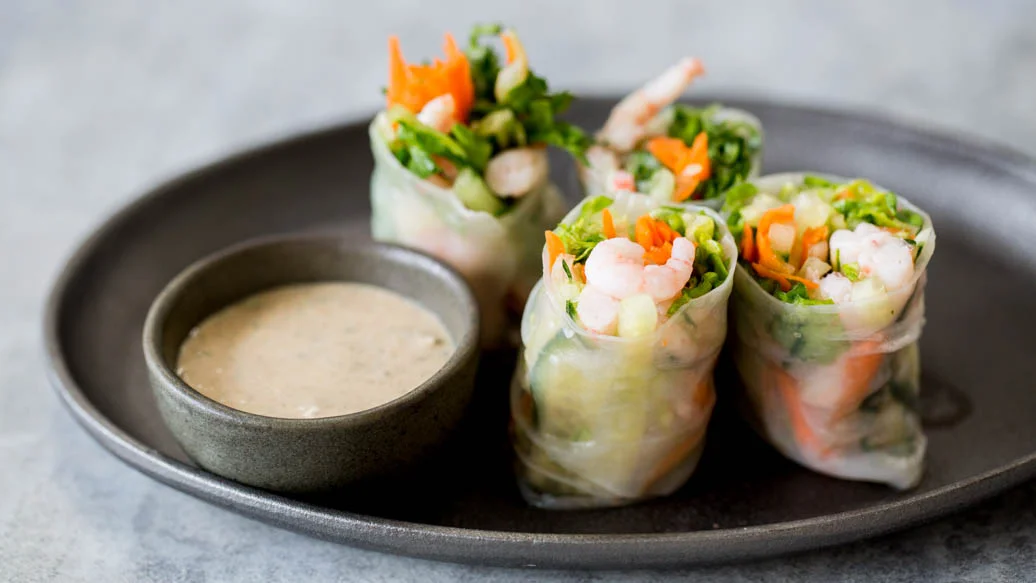 15 min
8 rolls (4 servings)
$2.84/serving
Experiment with different fresh, seasonal fillings in these light, dip-able wraps.
Ingredients
1 English cucumber, cut into 3" long rounds
8 rice paper rounds (8.5")
1 cup lettuce, shredded
1 cup grated carrot
1 lb (450 g) baby shrimp or cooked boneless, skinless chicken breast, cut into strips
Preparation
Turn the cucumber into spirals with a Veggie Twist & Spiral Slicer. Set aside.
Fill a large prep bowl with cold water. Working with one rice paper round at a time, dip in water for 20 seconds, or until pliable. Lay flat on a cutting board.
Place fillings on the bottom third of the rice paper round. Fold wrapper over, tuck in sides, and roll tightly. Repeat with remaining rice paper rounds.
Serve with aioli for dipping, if desired.
Nutritional Information
Per serving (2 rolls): Calories 190, Fat 2 g (Saturated 0 g, Trans 0 g), Cholesterol 95 mg, Sodium 590 mg, Carbohydrate 28 g (Fiber 4 g, Sugars 9 g), Protein 17 g.