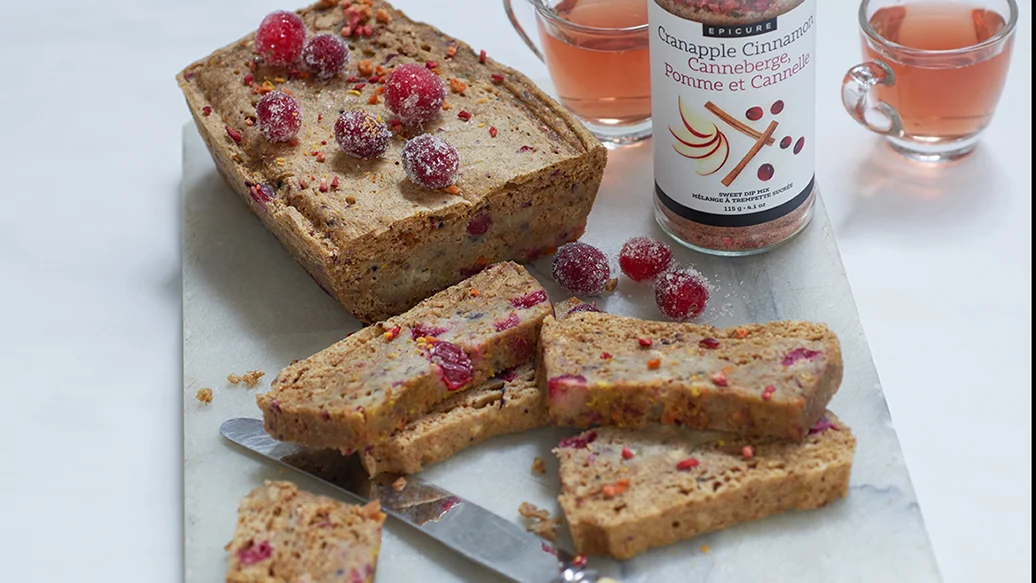 18 min
1 loaf for 4–6 servings
$0.79/serving
A fast, festive loaf you can even eat for breakfast.
Ingredients
1⁄2 cup whole-wheat flour
1⁄2 tsp baking powder
1⁄4 tsp baking soda
1⁄2 tsp ginger (ground)
1 large overripe banana, mashed
1⁄2 cup fresh or frozen cranberries, sliced in half
1⁄3 cup unsweetened applesauce, or one small snack-pack container
1⁄3 cup milk
2 large eggs
Tutti Fruity Whole Food Topper, to garnish
Preparation
In a large bowl, whisk together first six ingredients.
In a separate bowl, whisk together the remaining ingredients, except the topper.
Pour over dry ingredients. Fold together until combined. Sprinkle with whole food topper.
Pour into a Rectangular Steamer, covering with the lid. Microwave on high, about 6–8 minutes, or until a toothpick inserted in the centre comes out clean
Keep covered and let cool, 2 minutes. Unmold, garnish with whole food topper, slice, and enjoy.
Nutritional Information
Per serving: Calories 210, Fat 8 g (Saturated 1 g, Trans 0 g), Cholesterol 85 mg, Sodium 125 mg, Carbohydrate 39 g (Fiber 4 g, Sugars 9 g), Protein 9 g.
Tips
This can also be made in the oven. Simply cook at 350° F (175° C) for 40–50 minutes.
Make it egg-free: in a Prep Bowl, combine 1 tbsp ground flaxseed with 3 tbsp water. Let sit for 5 min, then use to replace the eggs in this recipe.