Chocolate Protein Fudge Bars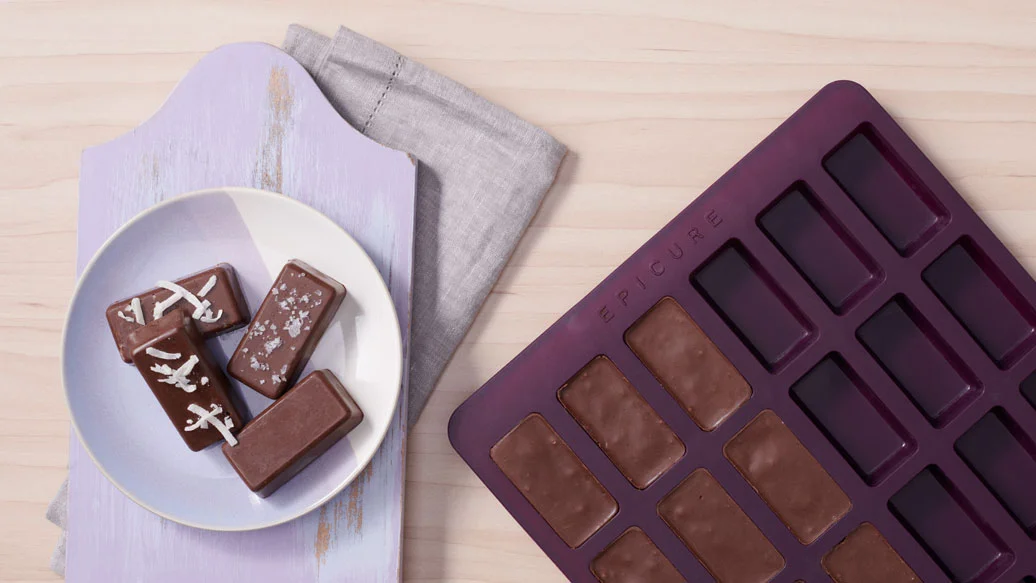 40 min (includes 30 min chill time)
12 servings
$0.29/serving
Make protein-packed fudge bars when you want a fun and delicious way to fuel your body. With a silky-smooth texture and rich, chocolatey flavour, these bars are the perfect way to satisfy your sweet tooth while also giving your muscles a little boost. Each bar packs 3 grams of protein and the recipe is easily customizable. Add in your favourite toppings, like sea salt, coconut flakes, or pecans, for extra crunch.
Ingredients
1⁄4 cup coconut oil
1⁄4 cup natural creamy peanut butter
1⁄4 tsp vanilla, orange, or peppermint extract
2 tbsp cocoa powder
Maple syrup, to taste (optional)
Toppings (optional): sea salt or unsweetened coconut flakes
Preparation
Set Perfect Petites on a Sheet Pan.
Measure coconut oil and peanut butter into a large, microwavable measuring cup. Microwave on high at 15-sec intervals until soft and melted. Add vanilla extract and stir to evenly combine.
Stir in protein blend, then cocoa powder. Taste and sweeten with maple syrup, if desired.
If adding toppings, sprinkle in bottom of 12 wells in Perfect Petites. Working quickly while fudge mixture is still warm, pour mixture overtop. Freeze until firm, about 30 min.
Pop out bars. Portion into small bags or containers. Refrigerate up to 5 days or freeze up to 1 month.
Nutritional Information
Per serving (1 bar): Calories 80, Fat 7 g (Saturated 4.5 g, Trans 0 g), Cholesterol 0 mg, Sodium 25 mg, Carbohydrate 2 g (Fiber 1 g, Sugars 0 g), Protein 3 g.
Tips
Be sure to clear a space in your freezer that's large enough to hold the Perfect Petites on a Sheet Pan before starting the recipe.
Like nuts? Stir 2 tbsp chopped, toasted pecans or walnuts into fudge before pouring into petites.