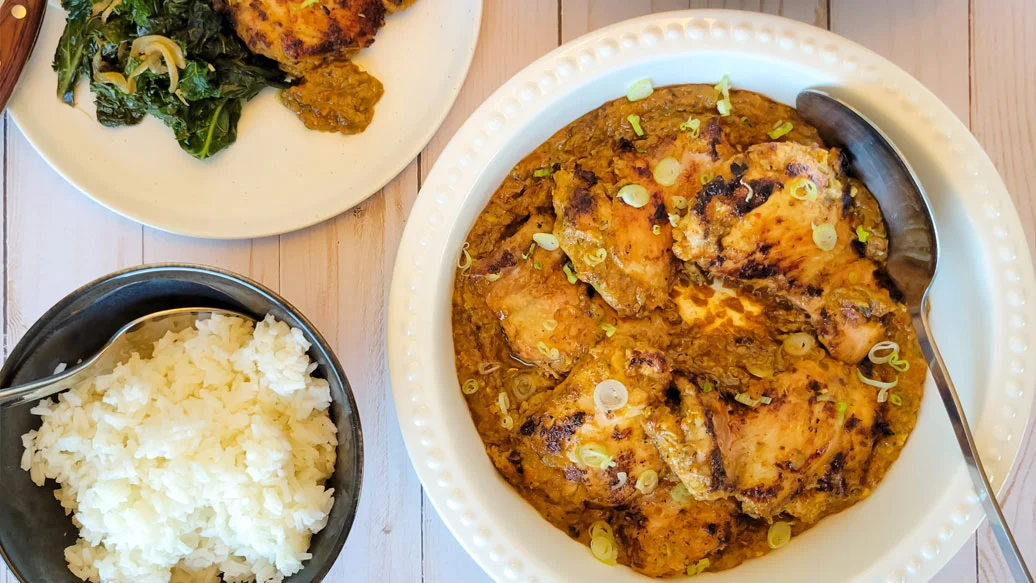 20 min + 1 hour marinating
6 servings
$1.90/serving
This recipe was created in collaboration with Epicure Director and Independent Consultant Claudia Hawkins-Moise from Wisconsin. We are very fortunate to have had the opportunity to work with Claudia!
Perfectly Balance Your Plate
Serve with 1⁄2 cup cooked rice and 1 cup steamed vegetables, or 1 serving of Louisiana Greens.
Ingredients
1 celery stalk
2 green onions
1 jalapeño pepper
1 red bell pepper
2 tbsp olive oil
1⁄2 lime
1 1⁄2 lb (675g) boneless skinless chicken thighs
1 tbsp oil, your choice
Preparation
Coarsely chop celery and green onions. Remove the stem and seeds from peppers and chop. Place all vegetables in a food processor with olive oil and seasoning. Use the 2-in-1 Citrus Press to squeeze in lime juice. Blend together until combined, but not smooth; mixture should be slightly chunky.
Place chicken in a large bowl or container along with mixture; toss to combine. Cover and refrigerate for at least 1 hr, up to overnight.
Preheat oven to 400° F. Heat 1 tbsp oil of your choice in Sauté Pan over medium-high heat.
Separate chicken from marinade and remove excess; set aside. Place chicken in pan and lightly brown, 3–4 min. Flip chicken, add reserved marinade, and place pan in oven.
Bake until chicken is tender and cooked through, 7–9 min.
Nutritional Information
Per serving: Calories 230, Fat 11 g (Saturated 1.5 g, Trans 0 g), Cholesterol 90 mg, Sodium 290 mg, Carbohydrate 8 g (Fiber 2 g, Sugars 2 g), Protein 25 g.
Tips
Feeling spicy? Leaving some of the jalapeño seeds in the marinade mix will add extra heat!