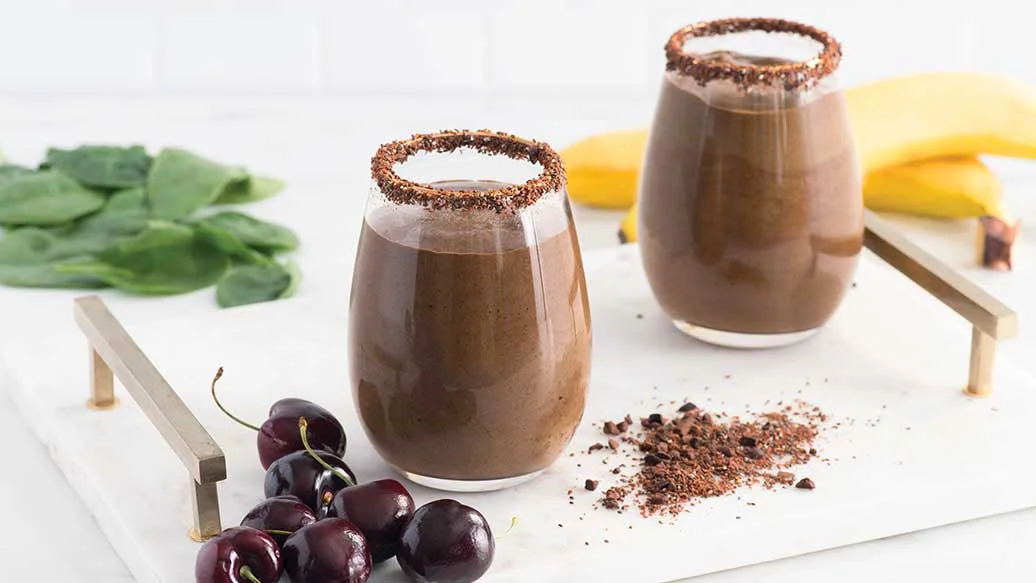 5 min
2 servings
$2.36/serving
Decadent cherries and chocolate make you feel like you're drinking cake for breakfast. Not only are they sweet and sour and all kinds of delicious, cherries are also jam packed with anti-inflammatories, antioxidants for healthy cells, and vitamins like Vitamin C to support a strong immune system!
Perfectly Balance Your Plate
Serve with 1 slice whole-grain bread and 2 tsp nut butter.
Ingredients
1 cup frozen cherries or your favorite berries (raspberries, cherries or strawberries)
1 cup milk, your choice
1 cup baby spinach or kale, optional
1⁄2 banana, chopped
Preparation
In a blender, combine all ingredients until smooth. 
Nutritional Information
Per serving: Calories 190, Fat 3.5 g (Saturated 2 g, Trans 0.1 g), Cholesterol 10 mg, Sodium 230 mg, Carbohydrate 27 g (Fiber 4 g, Sugars 19 g), Protein 15 g.
Tips
If you like it thicker, blend with ice cubes; for a thinner consistency, add water.
If you're opting for vanilla protein blend, add 1 tsp of unsweetened cocoa powder to the smoothie so you can still get that smooth chocolatey flavour.