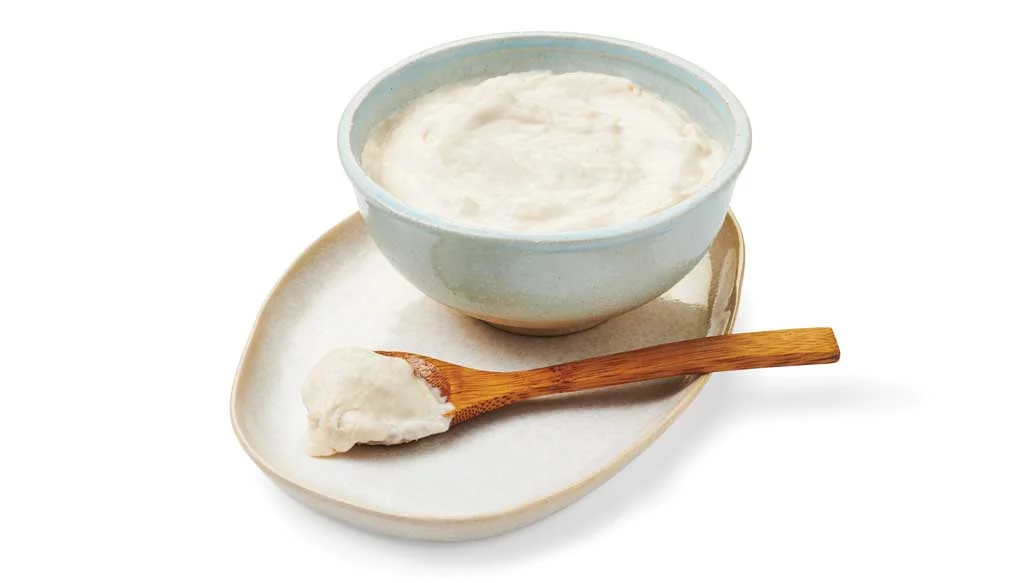 5 min
about 1 cup
$0.15/serving
Easily make vegan mayo at home—without the need for stabilizer preservatives or gums. Use as you would store-bought mayo.
Ingredients
2 scoops Better Than Mayo Mix
1⁄3 cup water
3⁄4 cup oil
1 tbsp white or apple cider vinegar
Preparation
ELECTRIC MIXER 
In a bowl, combine mix with water. Mix on high until emulsified, 30–60 sec. 
While mixing, slowly blend in oil. Reduce speed and add vinegar. Mix for 30 sec or until thick and creamy. Do not overmix. 
 IMMERSION BLENDER 
In a 2-cup measuring cup, combine mix with water. Slowly blend in oil, then vinegar, until thick and creamy.  
Nutritional Information
Per serving (1 tbsp): Calories 90, Fat 10 g (Saturated 0.5 g, Trans 0 g), Cholesterol 0 mg, Sodium 65 mg, Carbohydrate 0 g (Fiber 0 g, Sugars 0 g), Protein 0.2 g.
Tips
For best results, choose a light flavoured oil such as canola, grapeseed, light olive oil, or blended ( a mix of olive and vegetable oils)
Great base to flavour with Roasted Garlic or Chipotle Aioli Mix. 
Volume may vary based on blender speed.
Store up to 2 weeks in the fridge.