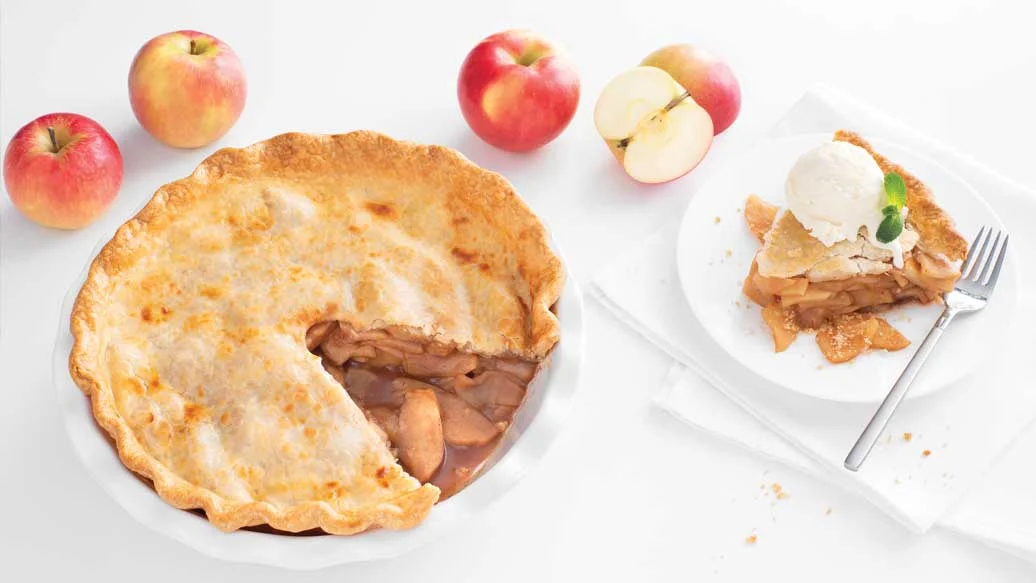 1 hour 20 min (includes 15 min cooling time)
8 servings
$0.81/serving
Ingredients
6 apples, such as Ambrosia, Granny Smith, Honeycrisp, or a mix
1 egg
1 tsp water or milk
3⁄4 cup lightly packed brown sugar
2 tbsp corn starch
1 tbsp apple cider vinegar or lemon juice
2 deep dish frozen pie shells (9" each), defrosted
Preparation
Peel and core apples; thinly slice. You should have about 8 cups. Place in Multipurpose Steamer . Cover and microwave on high for 4 min or until they start to soften. Uncover and refrigerate until cool, about 15 min. Stir in sugar, corn starch, apple pie spice, vinegar and salt; toss to coat.
Meanwhile, preheat oven to 425° F. Place one uncooked pie shell on Sheet Pan. In a small bowl, whisk egg with water.
Turn cooled apples into pie shell on pan. Lightly brush rim of pastry with egg wash.
Invert remaining shell (still in plate) overtop. Gently loosen dough from edges. Discard foil plate. Gently press dough edges together; crimp with tines of a fork.
Generously brush top of pie with egg wash (discard any leftover). Using a knife, cut a few steam vents in top.
Bake in preheated oven for 20 min. Reduce heat to 375° F. Continue to bake until crust is deep golden, 30-40 min. Cool completely on a wire rack before serving.
Nutritional Information
Per serving (1 slice): Calories 290, Fat 10 g (Saturated 3 g, Trans 0 g), Cholesterol 15 mg, Sodium 230 mg, Carbohydrate 48 g (Fiber 3 g, Sugars 25 g), Protein 3 g.