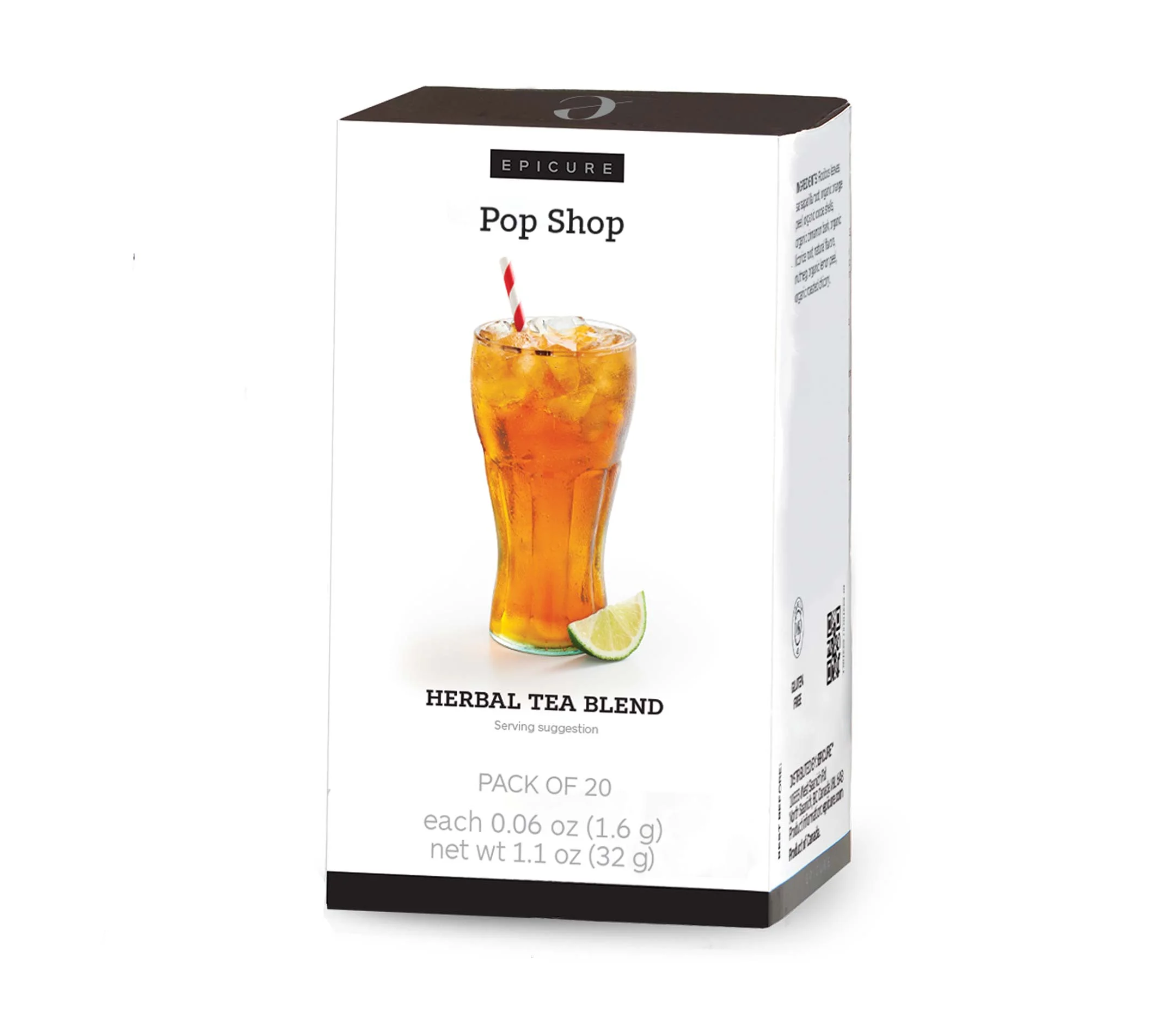 Our cola-flavoured Pop Shop Herbal Tea Blend offers a healthy and guilt-free way to relive our childhood memories of sipping on cold cola. Made with natural ingredients, this tea offers the anti-inflammatory properties of cinnamon and licorice root to help boost our immune systems. Suitable for kids from 1 to 101, this tea is an excellent alternative to sugary soft drinks. 
Simple Steps: 
Brew one tea bag per cup (or two tea bags if you prefer a more robust flavour). 
Steep for 5–7 min. 
Remove the tea bag and enjoy hot, or chill for a refreshing, caffeine-free iced tea (add a little soda water to complete the soda pop vibe). 
20 x 1.6 g (0.06 oz)
Each box has 20 tea bags.  
A can of Coke contains about 8 teaspoons of sugar. Our Pop Shop Mule Herbal Tea Blend feeds that cola craving with 0 g of sugar. A low sugar diet is a sweet deal for stable moods, healthy weight, and lower risk of chronic diseases. 
Ingredients: Rooibos leaves, sarsaparilla root, organic orange peels, organic cocoa shells, organic cinnamon bark, organic licorice root, natural flavours, nutmeg, organic lemon peel, organic roasted chicory. 
We spend as much time thinking about everything we don't put in, as everything we do. See Our Good Food Promise and our Never-Ever List to see what you won't find in an Epicure ingredient list. 
Epicure is dedicated to sharing delicious meal solutions that use only real, whole ingredients you can trust, while never ever compromising on taste.
Epicure products are:
100% gluten free
Made in a nut-free facility (except coconut)
Free from corn syrup & hydrogenated fat
Free from artificial colors, sweeteners & preservatives
Sugar & sodium conscious
Made from ethically sourced ingredients
85% non-GMO Project verified
Learn more about our Good Food Mission and the Never-Ever List