Bunny Breakfast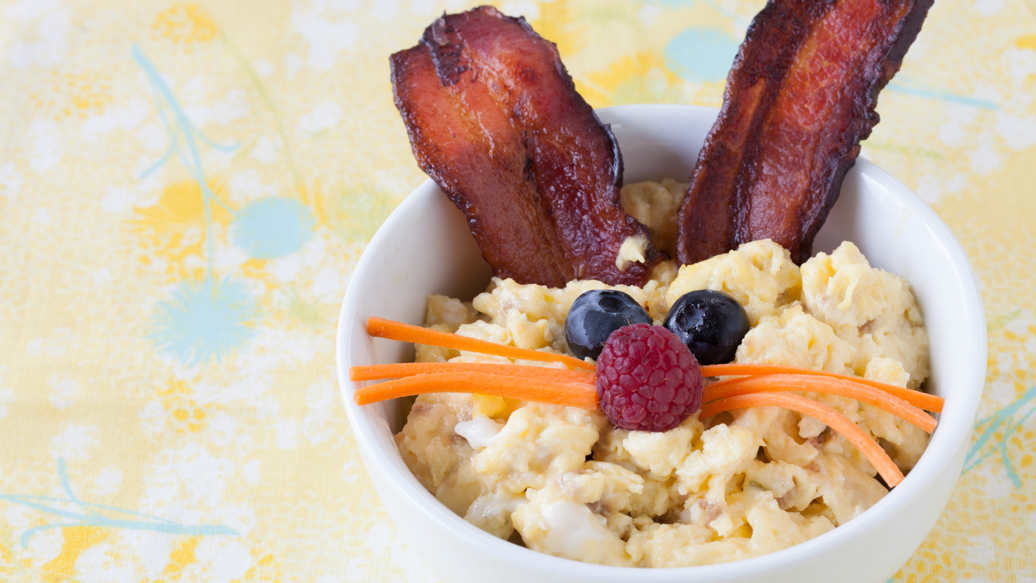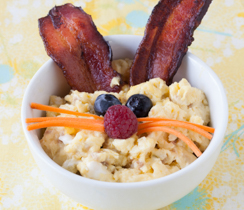 Preheat oven to 375° F (190° C). Place bacon on Epicure's Baking Sheet lined with Epicure's silicone mat. Cook until golden and crisp, approximately 15 minutes. Drain on paper towels to remove excess fat.
In a mixing bowl, whisk eggs, milk and Cheese, Chives & Bacon Dip Mix Mix. Stir in cheese.
In a large Epicure's Frying Pan, melt butter over medium heat. Add eggs to pan.
As mixture begins to set, gently move a heat-resistant Epicure's Silicone Spatula across the bottom and sides of pan to form large, moist "curds." Cook until eggs are done, but still moist. Season with Sea Salt (Grinder) and Black Pepper (Grinder).
| | |
| --- | --- |
| Nutritional Serving Size | |
| Calories | 300 |
| Fat | 21 g |
| Saturated Fat | 9 g |
| Transfat | 0.1 g |
| Cholsterol | 435 mg |
| Sodium | 450 mg |
| Carbohydrates | 6 g |
| Fibre | 1 g |
| Sugar | 2 g |
| Protein | 24 g |