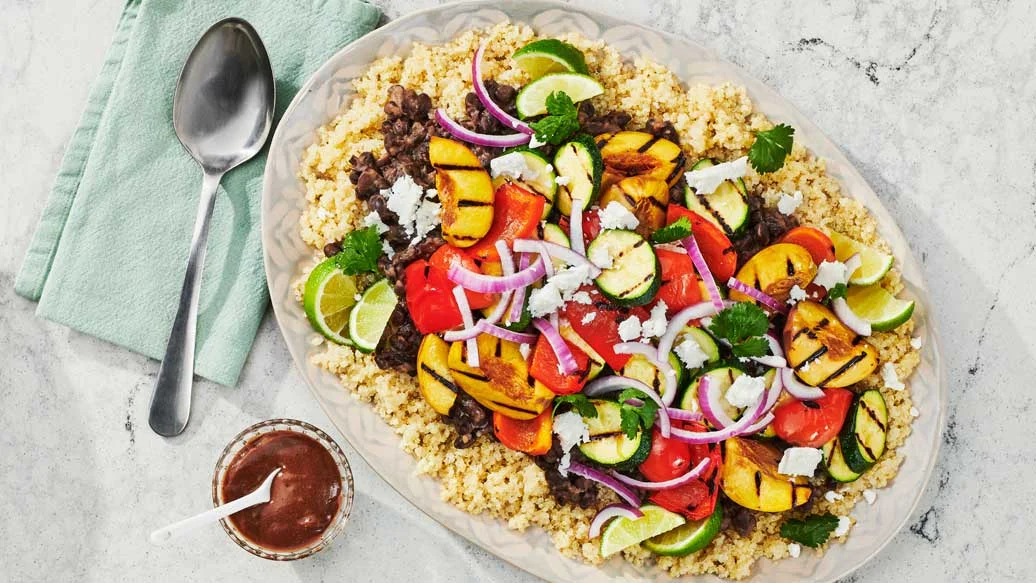 20 min
6 servings
$2.76/serving
Perfectly Balance Your Plate
Serve with 1⁄4 avocado, sliced.
Ingredients
1 pkg Mole in Minutes Sauce Mix
1 tbsp creamy natural peanut butter, or pumpkin seed butter 
1 1⁄3 cups water or broth
1⁄2 tsp sesame oil
1⁄2 oz (14 g) semi-sweet baking chocolate or dark chocolate
3 cans (14 oz/398 ml each) unsalted black beans
3 bell peppers
2 large peaches
2 zucchinis 
2 tbsp oil
Sea Salt, to taste
Black Pepper, to taste
3 cups cooked quinoa or rice, warmed
Toppings (optional): lime wedges, sliced red onion, cilantro, feta cheese 
Preparation
Preheat grill to medium-high heat.  
In a Multipurpose or Round Steamer, combine mix with peanut butter and water. Microwave, uncovered, on high for 3 min 30 sec, whisking halfway through. Stir in sesame oil and chocolate until well combined. Measure out 1 cup; set aside. Leave remaining sauce in steamer. 
Drain and rinse beans. Place in steamer. Stir to combine with sauce. Cover; microwave on high 2 min. Using Ground Meat Separator, coarsely mash. Cover to keep warm; set aside.   
Chop peppers into thick pieces. Halve and pit peaches; cut into quarters. Cut zucchinis into rounds. Place all veggies and fruit on a Sheet Pan, drizzle with oil and season with salt and pepper. Toss to coat and head to the grill.  
Place veggies and fruit on grill; close lid and grill, turning veggies often until tender and charred, about 5 min. Remove to sheet pan as they're done. 
To serve, reheat reserved 1 cup sauce in microwave, if needed. Divide beans, veggies, and quinoa between six bowls. Drizzle warm sauce over top.  
Nutritional Information
Per serving: Calories 440, Fat 11 g (Saturated 1.5 g, Trans 0 g), Cholesterol 0 mg, Sodium 120 mg, Carbohydrate 66 g (Fiber 16 g, Sugars 10 g), Protein 20 g.
Tips
Prep your grains ahead of time to have a meal on the table in 20 min. 
Swap fresh peaches for mangos. Or, if you can't find fresh, try canned peaches—drain them and pat dry before using.