Steamed Asparagus with Balsamic Vinegar and Pesto Herbs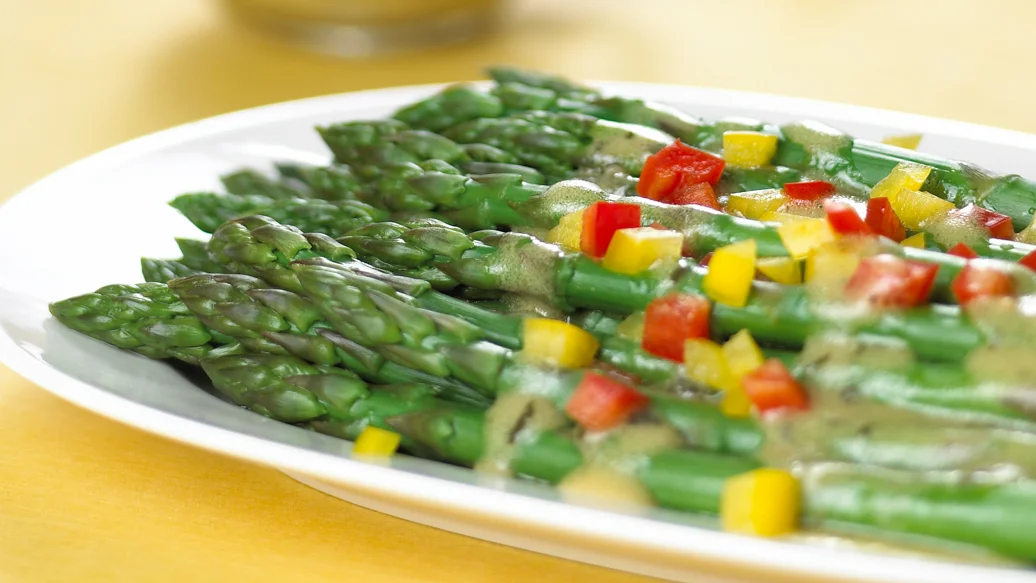 20 min
4 servings
$1.01/serving
Dress up your asparagus with a Balsamic-Pesto twist.
Ingredients
1 lb (450 g) asparagus, stems trimmed
1⁄4 cup balsamic vinegar
2 tbsp water
2 tbsp brown sugar
2 tbsp olive oil
Preparation
Whisk together balsamic vinegar, water, brown sugar, 3 Onion Dip Mix and Pesto Sauce Mix. Simmer in Multipurpose Pot - 8 cup for 3 minutes. Whisk in olive oil and simmer for an additional minute.
In Multipurpose Pot, simmer asparagus in boiling water until tender crisp. Strain and plunge into a bowl of cold water. Pat dry and toss with warm dressing. Delicious served warm or at room temperature.
Nutritional Information
Per serving: Calories 130, Fat 7 g (Saturated 1 g, Trans 0 g), Cholesterol 0 mg, Sodium 20 mg, Carbohydrate 15 g (Fiber 2 g, Sugars 10 g), Protein 3 g.
Tips
Peel the lower part of the asparagus with a peeler. By peeling this section, you will remove the fibrous skin that develops on the lower half and the entire stalk of asparagus will be tender when cooked.