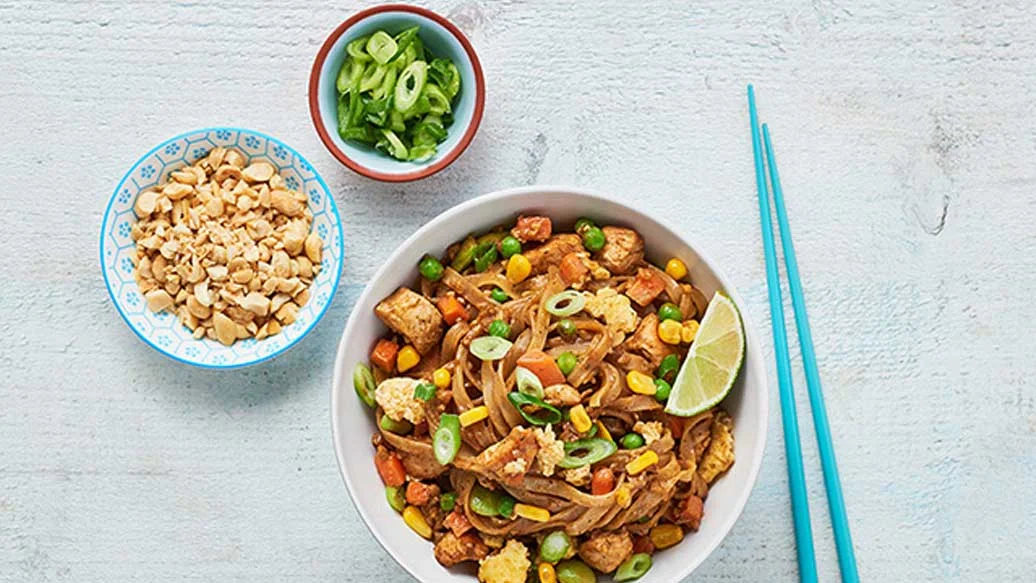 20 min
4 servings
$2.64/serving
Perfectly Balance Your Plate
This is a perfectly balanced plate. 
Ingredients
1⁄2 pkg (14 oz/400 g) rice vermicelli noodles
8 cups boiling water, or enough to soak noodles
1⁄4 cup natural peanut butter, or nut butter alternative
1⁄2 cup water
1 tbsp low-sodium soy sauce
1⁄2 lb (225 g) boneless, skinless chicken breast, about 1 breast
1⁄2 tbsp oil
4 cups frozen mixed vegetables
2 eggs
Black Pepper, to taste
Toppings (optional): Chopped peanuts, sliced green onions, lime wedges
Preparation
In a large bowl, combine rice noodles and boiling water. Ensure noodles are completely submerged—add more boiling water as needed. Every couple of minutes, give the noodles a stir to ensure they are evenly cooked. Noodles take approximately 6 min to cook until tender. Drain and rinse noodles under cold water. 
Meanwhile, in a bowl, whisk together peanut butter, water, soy sauce, and seasoning. Set aside.  
Cut chicken into bite-sized pieces. In Wok, heat oil over medium-high heat. Add chicken and frozen vegetables. Cook about 10 min or until chicken is cooked and vegetables are heated through. 
In a small bowl, whisk eggs. 
Reduce heat to low-medium. Add cooked noodles and reserved sauce to wok. Using tongs, mix well, and loosen noodle strands to avoid having them clump together. 
Add whisked eggs, stir into noodles very well, and cook, stirring constantly and scraping the bottom of the wok, about 1 min. Season with pepper to taste,  and serve immediately, adding toppings as desired.
Nutritional Information
Per serving: Calories 500, Fat 15 g (Saturated 2.5 g, Trans 0 g), Cholesterol 165 mg, Sodium 360 mg, Carbohydrate 67 g (Fiber 5 g, Sugars 13 g), Protein 25 g.
Tips
The sauce thickens quickly if not eaten immediately—add more water to thin out, as needed.