Loaded Ranch Potato Salad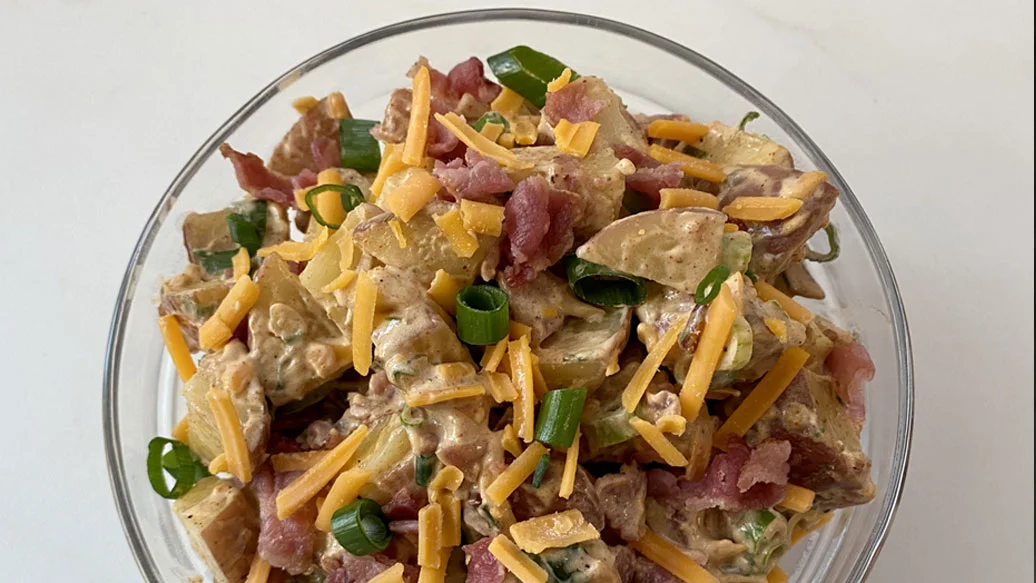 20 min
4 servings
$1.28/serving
This is a tasty riff on loaded fries. All the satisfaction of fries topped with bacon, cheese with a smoky and spicy ranch dressing, but in spudsy salad form. The entire dish is prepared in the Multipurpose Steamer, which means less mess and easy clean up. This is the side dish everyone will be talking about all summer long. 
Perfectly Balance Your Plate
Serve with 4 oz (113 g) lean protein and 1 cup veggies, your choice.  
Ingredients
4 slices low-sodium bacon
1 1⁄2 lbs (675 g) red potatoes, about 4 small potatoes
1⁄4 cup each light mayonnaise and light sour cream
2 tbsp milk, your choice
2 green onions
1⁄4 cup shredded cheddar cheese 
Toppings (optional): extra sliced green onion and shredded cheese
Preparation
Lay bacon over Multipurpose Tray in Multipurpose Steamer. Cover and microwave on high 4–5 min, or until crispy.   
Meanwhile, cube potatoes.    
Remove bacon and Multipurpose Tray from steamer. Using a paper towel, remove most of the bacon grease from the steamer. Add potatoes. Cover and microwave on high until cooked, about 8 min.  
Meanwhile, prepare dressing. In a bowl, whisk together mayo, sour cream, and dressing mix. Add milk; whisk to combine. 
Once potatoes are cooked, uncover and place in refrigerator to cool down for 5 min.   
Meanwhile, chop cooked bacon. Slice green onions.   
Once potatoes have cooled down, add dressing and bacon. Toss gently to coat. Stir in onions and cheese. Serve at room temperature or cover and chill until ready to serve.  Add toppings, if desired. 
Nutritional Information
Per serving (about 1 cup): Calories 320, Fat 17 g (Saturated 2.5 g, Trans 0.1 g), Cholesterol 10 mg, Sodium 340 mg, Carbohydrate 32 g (Fiber 5 g, Sugars 4 g), Protein 9 g.
Tips
Waxy potatoes are the number one choice for potato salad. Once cooked, they hold their shape, while still being soft & creamy. Besides red skinned potatoes, most of the small varieties such as fingerling, new, or medley baby potatoes are the waxy type you're looking for.   
Cut down on sodium and fat by swapping bacon with Better Than Bacon Topper—a deliciously smoky and crunchy vegan topping.