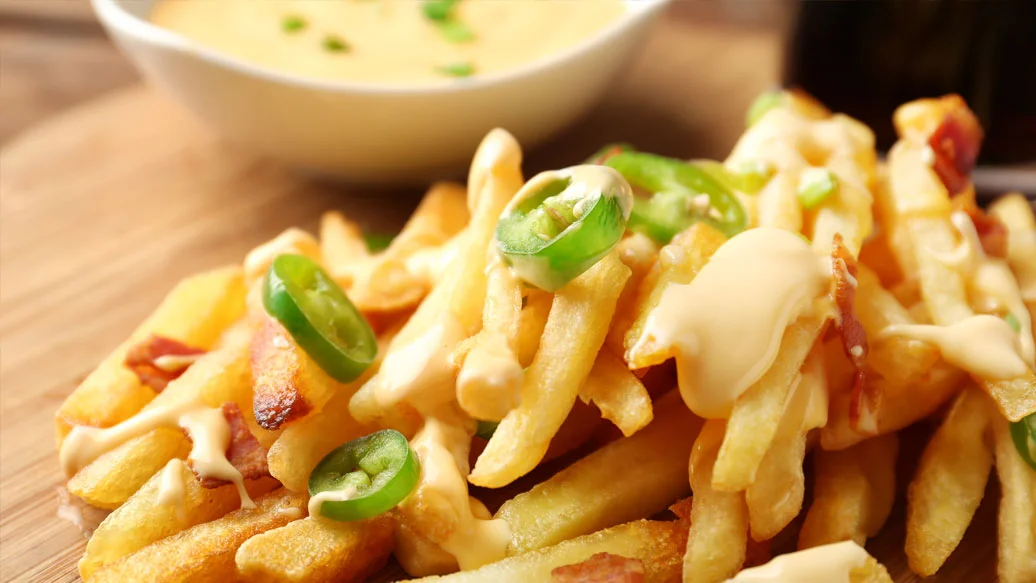 35 min
6 servings
$1.22/serving
It's going to be messy and deliciously cheesy! Have extra Big Burger Sauce for dunking.
Ingredients
6 russet potatoes
1⁄4 cup olive oil
2 tbsp Big Burger Sauce Mix
1 cup light mayonnaise
2 tbsp ketchup
1 tbsp relish
1 cup shredded cheddar cheese
1⁄2 cup shredded mozzarella cheese
Toppings (optional): sliced jalapeños , crispy bacon or sliced green onions
Preparation
Preheat oven to 400° F (200° C).
Cut potatoes into french fry sticks. Place on a Sheet Pan lined with a Sheet Pan Liner.
Drizzle with olive oil and toss with fry seasoning. Bake for 30 min or until crispy.
Meanwhile, in a bowl, combine sauce mix, mayo, ketchup and relish. Set aside.
Once fries are crispy, sprinkle with cheddar and mozzarella. Let the heat from the fries melt the cheese, or bake for 5 more min. 
Drizzle with big burger sauce and add toppings, if using.
Nutritional Information
Per serving: Calories 430, Fat 20 g (Saturated 5 g, Trans 0 g), Cholesterol 25 mg, Sodium 380 mg, Carbohydrate 48 g (Fiber 5 g, Sugars 5 g), Protein 15 g.