Lamb Souvlaki with Dillicious Tzatziki Sauce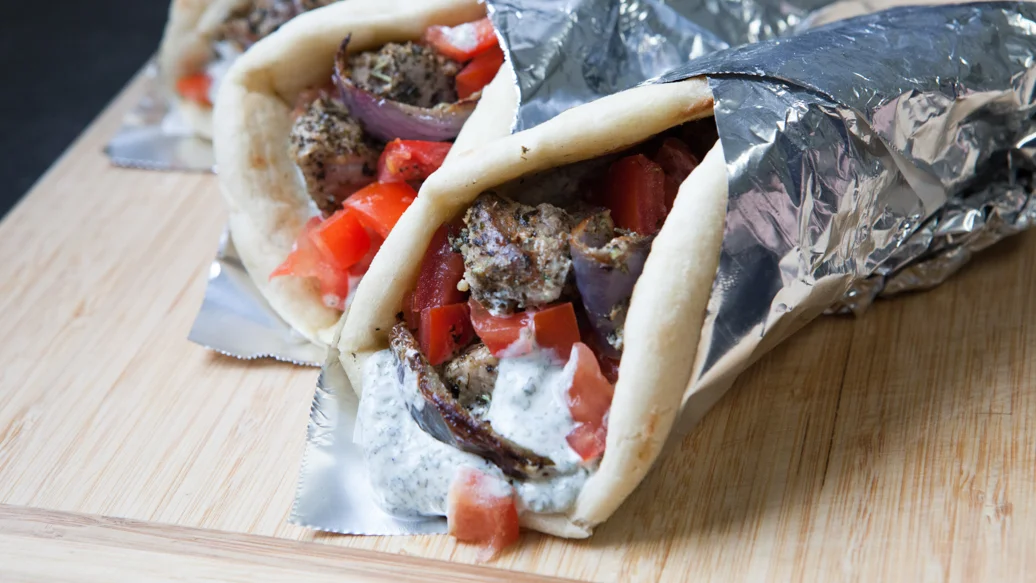 1 1/2 hrs
6 servings
$1.91/serving
Donairs and gyros any time! Simple and delicious!
Ingredients
1 lb (450 g) cubed lamb
1 small onion, quartered into wedges
3 tbsp olive oil
juice of 1/2 a lemon
6 bamboo skewers, soaked in water to prevent scorching
6 pita bread rounds
2 tomatoes, diced
Preparation
In a bowl, combine lamb and onions with olive oil, lemon juice, and seasoning. Cover and refrigerate for a minimum of 1 hour.
Preheat oven to 400° F (205° C). Slide lamb cubes onto skewers alternating with wedges of onion, leaving space between to ensure even cooking.
Place skewers onto a Sheet Pan lined with parchment paper and bake approximately 20 minutes, turning at least once.
Warm or grill pitas and brush with olive oil and spread with prepared Dillicious Tzatziki.
Pull the contents from the skewer into the warm pita and top with tomatoes. Serve with extra Dillicious Tzatziki on the side.
Nutritional Information
Per serving: Calories 410, Fat 14 g (Saturated 3.5 g, Trans 0 g), Cholesterol 45 mg, Sodium 480 mg, Carbohydrate 46 g (Fiber 3 g, Sugars 9 g), Protein 24 g.