Jack-O'-Lantern Pumpkin Spice Pancakes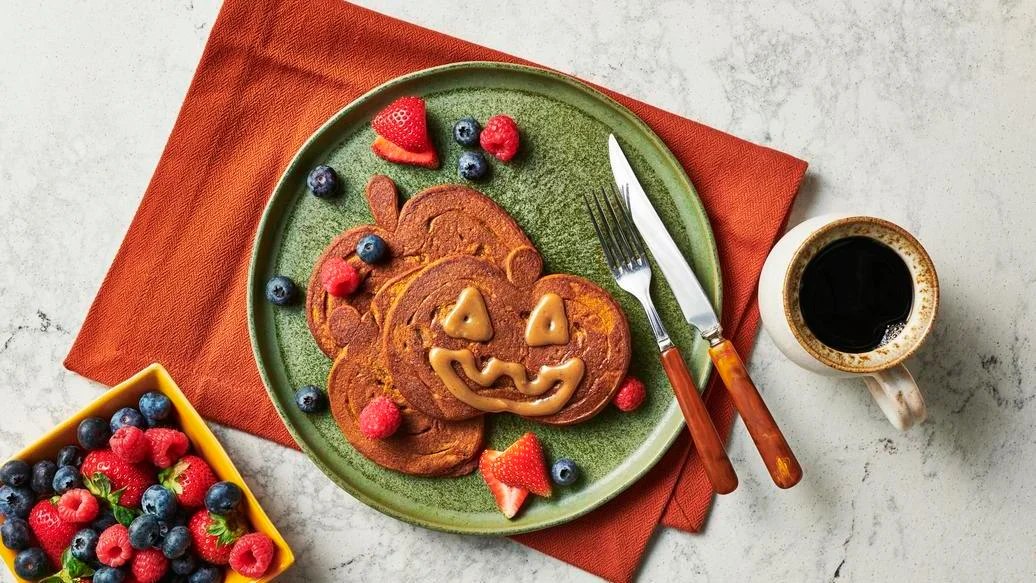 20 min
4–5 servings
$1.74/serving
An adorably spook-tacular breakfast perfect for those crisp autumn mornings. Little goblins and witches will gobble these up. A pumpkin spiced twist on a Sunday morning fave!
Perfectly Balance Your Plate
Serve with 3⁄4 cup plain 2% Greek yogurt and 2 cups chopped veggies.
Ingredients
1 pkg Pumpkin Spice Loaf & Muffin Mix
2 eggs
1 cup pumpkin purée
1 cup water
1⁄4 cup oil, for batter
3 tsp oil, for cooking
Toppings (optional): plain 2% Greek yogurt, chocolate chips, chopped pecans, whipped cream, maple syrup
Preparation
In a large bowl, whisk mix with eggs, pumpkin purée, water, and 1⁄4 cup oil. Let batter rest 3 min—it will continue to thicken. 
Heat 1 tsp oil in Sauté Pan over medium heat.  
Working in batches and using 1⁄4 cup as a guide, scoop 3 pancakes into pan, leaving space between them.
Cook 2–5 min. When edges start to brown, flip each pancake and cook for an additional 1–2 min.  
Repeat steps 2–4 for two more batches, or until all batter is cooked. Cooking times will vary.  
Divide pancakes between four plates. If using, scoop caramel or fudge sauce into piping bag (or Ziploc® bag with one corner snipped). Draw Jack-O'-Lantern faces on pancakes. Add toppings, if desired. 
Nutritional Information
Per serving (2 pancakes): Calories 360, Fat 17 g (Saturated 2 g, Trans 0 g), Cholesterol 75 mg, Sodium 460 mg, Carbohydrate 48 g (Fiber 3 g, Sugars 19 g), Protein 5 g.
Tips
Instead of piping caramel or fudge sauce to make faces, arrange chocolate chips into Jack-O'-Lantern smiles on the pancakes.
To create a pumpkin-shaped pancake, drag a small amount of batter out of one side to make a 'stem' right after you scoop the batter into the pan.