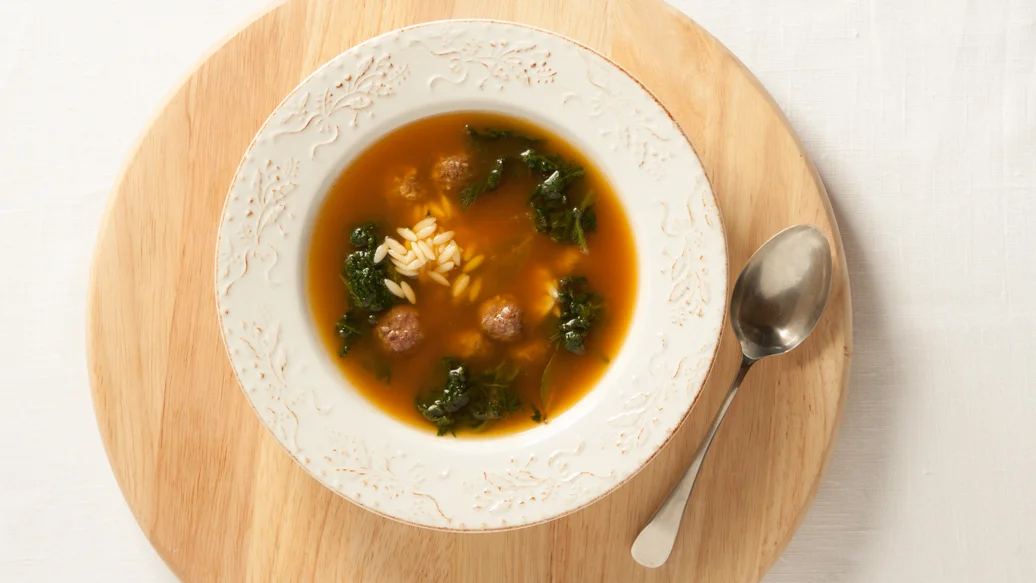 35 - 40 min
8 cups (8 servings)
$0.89/serving
This recipe's name comes from the Italian phrase "minestra maritata," meaning "married soup." Enjoy the perfect pairing of meat and spinach in this easy, delicious soup served at traditional Italian weddings. Buon appetito!
Ingredients
8 cups beef broth
1 bay leaf
1 egg
1 lb (450 g) lean ground beef, chicken or turkey
1⁄4 cup dry breadcrumbs
1 package (10 oz/300 g) frozen chopped spinach
1 cup orzo or other bite-sized pasta
1 cup grated Parmesan cheese
Preparation
Simmer Beef Broth with Bay Leaf in a Multipurpose Pot - 8 cup.
While broth is simmering, prepare mini meatballs. Whisk egg and Classic Meatloaf Seasoning. Add meat and breadcrumbs. Roll scant teaspoons of mixture into grape-sized meatballs.
Drop meatballs into broth, along with spinach and pasta.
Simmer 10 minutes, or until meatballs are cooked through.
Sprinkle in Parmesan, gently stir and serve hot.
Nutritional Information
Per serving: Calories 90, Fat 3.5 g (Saturated 1.5 g, Trans 0 g), Cholesterol 30 mg, Sodium 110 mg, Carbohydrate 8 g (Fiber 1 g, Sugars 1 g), Protein 8 g.