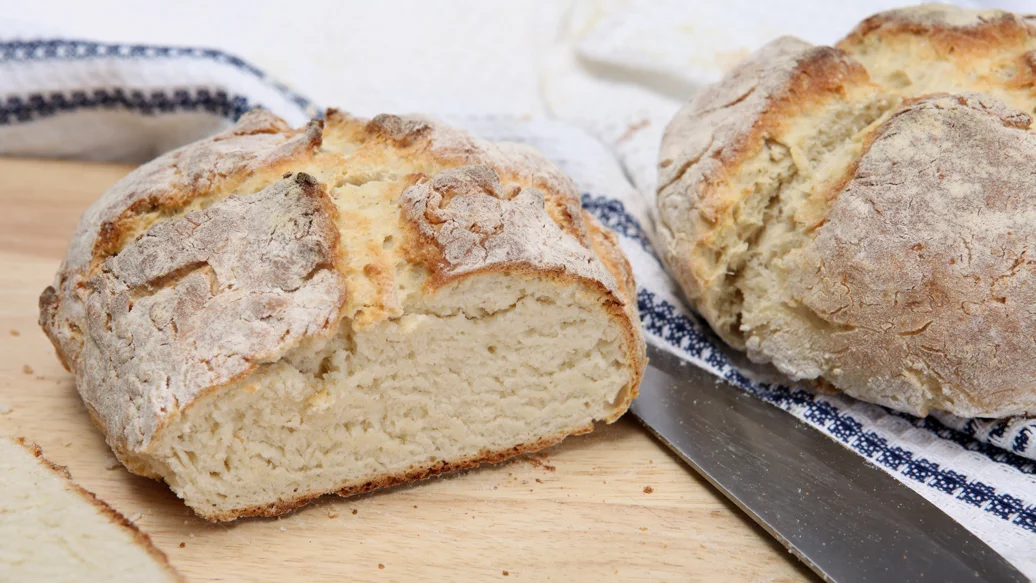 40 min
1 loaf (8 slices)
$0.37/serving
You don't need to be Irish to make this rustic, no-yeast bread! All of its leavening action comes from baking soda and buttermilk! This easy recipe requires no rise time and yields a deliciously crusty and moist loaf, ideal for dunking into stews!  
Ingredients
1 1⁄4 cups unbleached flour
1 cup whole-wheat flour
1⁄2 cup rolled oats
1⁄4 cup wheat germ
1 tsp Sea Salt, ground
1 1⁄2 tsp baking soda
1⁄4 cup unsalted butter
1 1⁄3 cup buttermilk
Preparation
Preheat oven to 425° F (220° C).
Combine flours, oats, wheat germ, dip mix, salt and baking soda.
Using a pastry blender, cut butter into dry ingredients until a coarse meal results.
Add buttermilk, stir quickly and turn out onto a floured surface. Knead gently and form into a loaf. Place on Sheet Pan lined with Sheet Pan Liner.
Dust with a little whole-wheat flour and cut a shallow X into the centre. Bake for 30 minutes.
Nutritional Information
Per serving (1 slice): Calories 220, Fat 7 g (Saturated 4 g, Trans 0.2 g), Cholesterol 15 mg, Sodium 340 mg, Carbohydrate 33 g (Fiber 3 g, Sugars 3 g), Protein 7 g.
Tips
This recipe can be easily doubled to make 2 round, rustic loaves.