Easy Peasy Cinnamon Raisin Bagels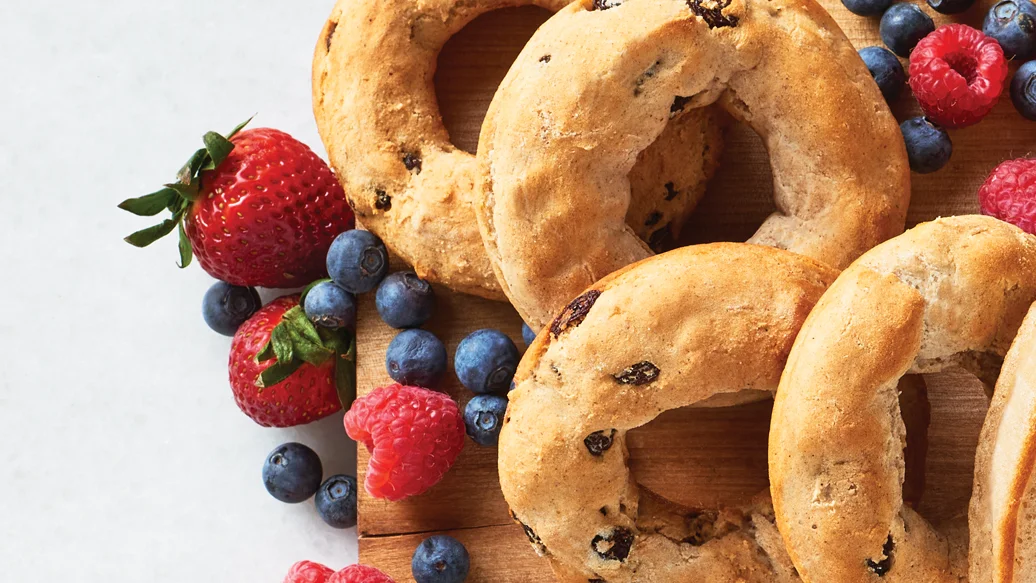 45 min
6 servings
$1.16/serving
Perfectly Balance Your Plate
Serve with 1⁄2 cup 2% Greek yogurt and 1⁄4 cup berries.
Ingredients
1 1⁄4 cup Easy Peasy Bagel, Pancake & Waffle Mix, plus extra for kneading
1⁄2 cup raisins
1 cup 2% Greek yogurt
oil, for brushing
Preparation
In bowl, use a fork to stir together mix and cinnamon. Stir in raisins; using your fingers break up any clumps.
Make a well in centre; add yogurt. Using a fork, mix until all yogurt has been absorbed. Dough will be crumbly.
Coat hands with more mix; knead dough in bowl a few times just until it comes together in a ball. Dough will be tacky and slightly sticky. Cover and let stand 15 min.
Meanwhile, preheat oven to 375° F. Place Perfect Portion Bagel Pan on Sheet Pan. Lightly oil bagel pan with a basting brush; set aside.
Turn dough onto counter; knead 2–3 times and flatten slightly. If dough is sticky, add more mix as needed. Cut into six pieces; roll into ropes, each about 7" long.
Lay ropes in pan; pinch ends to seal. Brush off excess flour from tops, if needed.
Bake in oven until puffy and golden, 18 min. Cool; pop out.
Nutritional Information
Per serving: Calories 170, Fat 1 g (Saturated 0.5 g, Trans 0 g), Cholesterol 5 mg, Sodium 270 mg, Carbohydrate 35 g (Fiber 2 g, Sugars 10 g), Protein 5 g.
Tips
EPIC HACK: The longer the dough sits before shaping, the easier it is to work with (less tacky) as it soaks up all the dry mix. If you have more time let it rest up to 20–25 min.