Comforting Lentils & Greens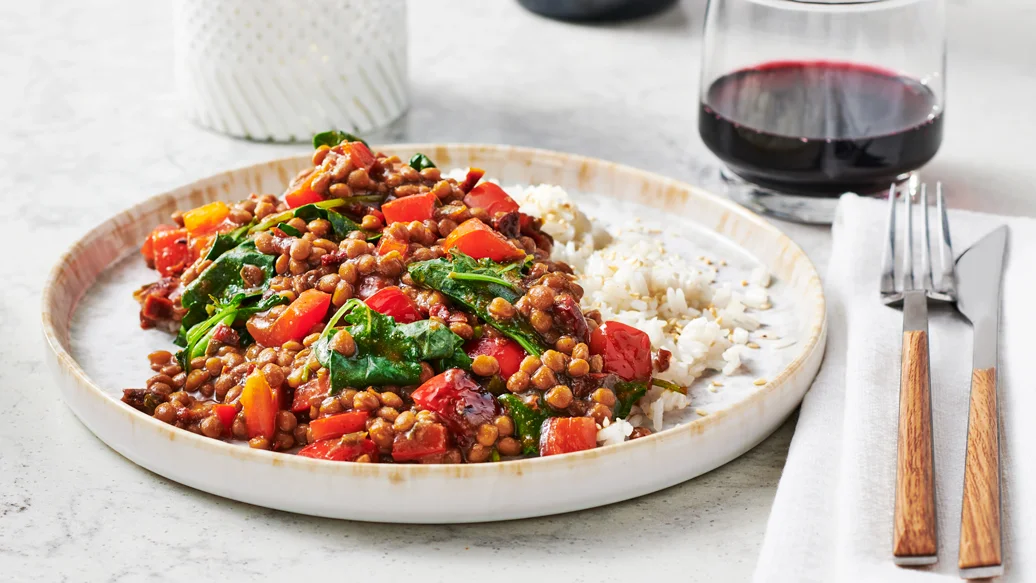 15 min
4 servings
$2.94/serving
Perfectly Balance Your Plate
Serve with 1⁄2 cup of rice.
Ingredients
3⁄4 cup water
1 tsp low-sodium soy sauce
1 tbsp oil
1 bell pepper
2 cans (19 oz/540 ml each) lentils
8 cups leafy greens such as baby spinach or kale
Topping (optional): Chili Flakes & Garlic Topper
Preparation
In a bowl, combine seasoning, water, and soy sauce. Set aside. 
In Wok, heat oil over medium-high heat. Dice pepper; add to wok. Sauté until slightly softened, about 1 min.  
Drain and rinse lentils; add to wok. Stir in seasoning mixture. Stir gently to heat lentils through.  
Reduce heat to medium. Add spinach, a few handfuls at a time, stirring until wilted. Add topping, if desired.  
Nutritional Information
Per serving (about 1 3/4 cups): Calories 330, Fat 4 g (Saturated 0.4 g, Trans 0 g), Cholesterol 0 mg, Sodium 570 mg, Carbohydrate 54 g (Fiber 25 g, Sugars 10 g), Protein 22 g.