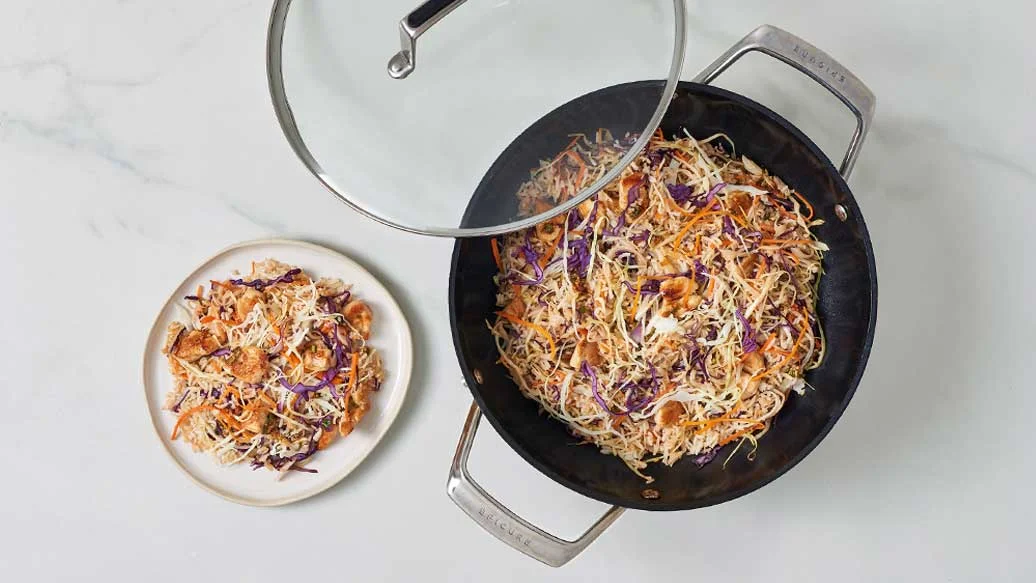 20 min
4 servings
$3.32/serving
Not many recipes taste better using leftovers…but fried rice is one of them! A quick fry in a wok, and cold, cooked leftover rice turns nice and crispy. Use the convenience of bagged coleslaw for veg, or shred your own cabbage to save on grocery costs. 
Ingredients
2 tbsp low-sodium soy sauce
2 tbsp water
1 tbsp sesame oil
1 tbsp vegetable oil
1 lb (450 g) boneless, skinless chicken thighs or breasts
3 cups cold, cooked white rice
4 cups shredded coleslaw
Preparation
In a small bowl, whisk together seasoning, soy sauce, water, and sesame oil. Set aside.  
In Wok, heat vegetable oil over medium-high heat. Meanwhile, cut chicken into bite-sized pieces.  
Add chicken to wok; stir-fry until cooked through, about 5 min.  
Increase heat to high; add rice. Stir often to break up clumps and heat through, about 5 min.  
Gradually add coleslaw (wok will be full). Add reserved seasoning mixture; stir-fry 3 min or until coleslaw is tender-crisp.  
Nutritional Information
Per serving (about 1 1/2 cups): Calories 430, Fat 15 g (Saturated 3 g, Trans 0 g), Cholesterol 75 mg, Sodium 490 mg, Carbohydrate 44 g (Fiber 2 g, Sugars 5 g), Protein 26 g.
Tips
Day old, cold rice works best in this recipe. It helps keep the rice grains crisp. Freshly cooked rice is more likely to be too soft and stick to the wok.
Don't have day old rice? Make Steamer Rice—1 cup uncooked white rice makes about 3 cups, just what you need for this recipe. Don't forget to cool it down in the fridge first!