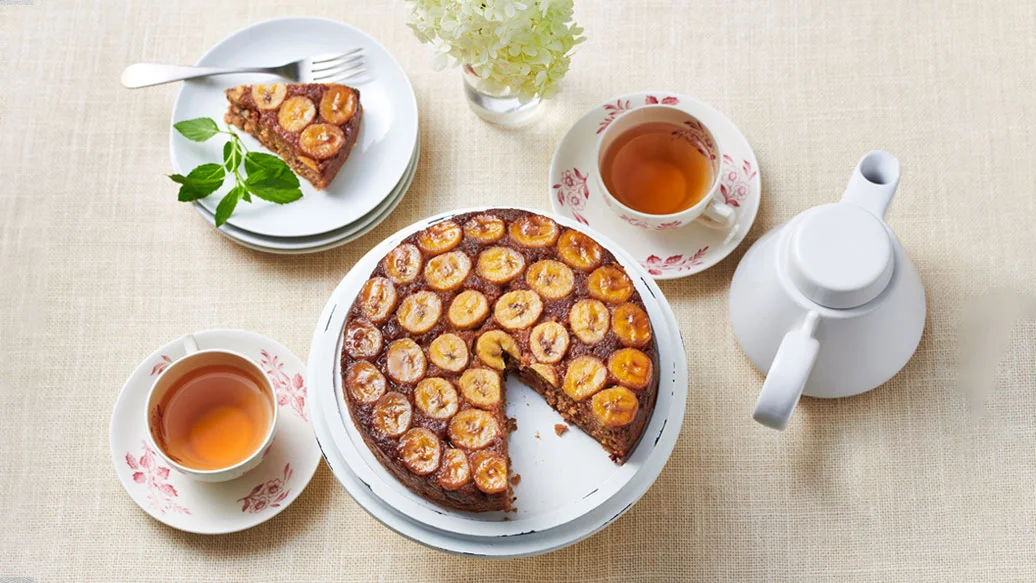 40 min
8–12 servings
$0.57/serving
With cinnamon-caramel comfort, sweet bananas, and moist texture, we're giving this retro classic its due. Dig in and you'll see that some desserts never go out of style! It's totally gluten-free, budget-friendly, and uses mostly pantry staples so it's there for you in a pinch. Prep in 5 min, then set it and forget it in the oven!
Ingredients
1⁄4 cup brown sugar
2 tbsp unsalted butter, melted
2 ripe bananas, divided
2 eggs
3⁄4 cup unsweetened applesauce
1⁄2 cup oil
Preparation
Preheat oven to 350° F. Lightly oil 9" round cake pan.  
In Prep Bowl, combine sugar and butter. Spread over bottom of pan.  
Slice 1–1 1⁄2 bananas into thin rounds and arrange in bottom of pan. Mash remaining banana; set aside.
In a large bowl, whisk eggs with applesauce and oil. Stir in muffin mix and mashed banana until well combined. Scrape batter into pan.  
Bake 35–40 min, or until toothpick comes out clean. Remove from oven; cool in pan.
Gently run knife around edge of pan to loosen cake. Carefully invert cake onto a plate or serving platter.
Nutritional Information
Per serving (1 slice): Calories 220, Fat 13 g (Saturated 2.5 g, Trans 0.1 g), Cholesterol 35 mg, Sodium 170 mg, Carbohydrate 25 g (Fiber 1 g, Sugars 12 g), Protein 2 g.
Tips
To easily invert cake, place a Cooling Rack over top of cake and carefully flip over. Gently slide onto a plate or serving platter.