Summer Strong Collection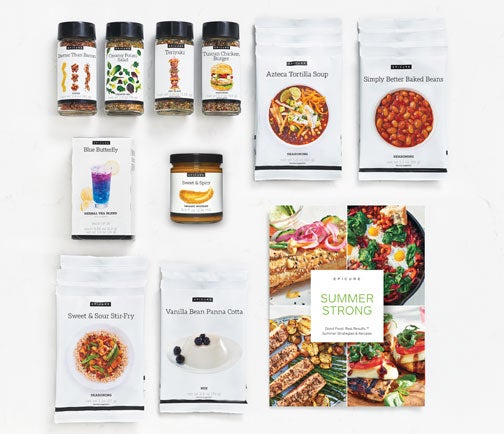 Keep Good Food. Real Results. going strong all season long with summer-centric products and 16 perfectly balanced recipes (plus cocktails and dessert!). Collection includes:
Summer Strong Recipe Booklet
Better Than Bacon Topper
Creamy Potato Salad Dressing Mix
Teriyaki Dry Glaze
Tuscan Chicken Burger Seasoning
Azteca Tortilla Soup Seasoning (Pack of 3)
Simply Better Baked Beans Seasoning (Pack of 3)
Blu Butterfly Herbal Tea Blend
Honey Mustard (replacing Sweet & Spicy Organic Mustard)
Sweet & Sour Stir-Fry Seasoning (Pack of 3)
Vanilla Bean Panna Cotta Mix (Pack of 2)
Use the Collection with the 2-Week Summer Strong Recipe Booklet or take your Summer Strong Collection further with the 30-Day Meal Plan! View both here: https://epicure.com/en-us/meal-plans.