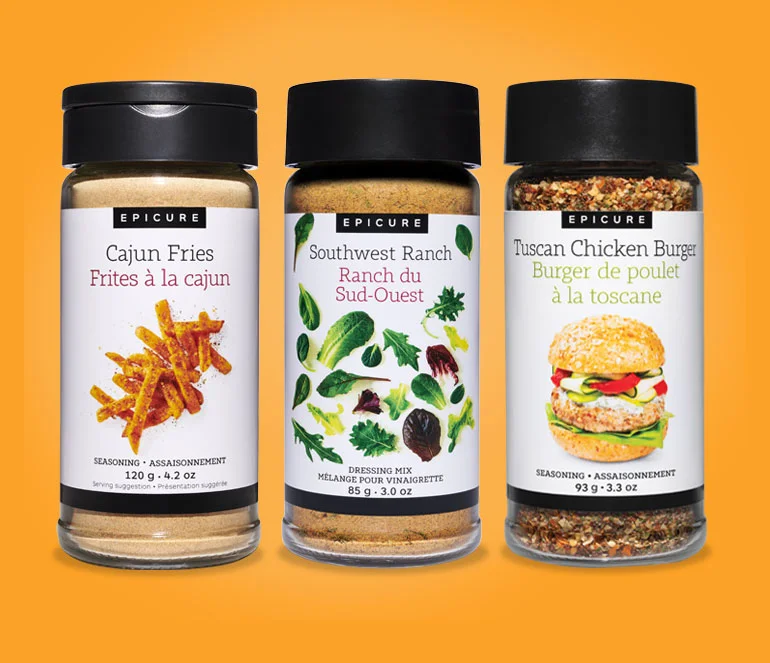 Unleash your inner burger boss with this curated collection of 'better-than-drive-in' blends. What makes it better? Low-sodium French fries, calorie-conscious burgers, and dressing that's not processed yet overloaded with flavour. This trio will elevate your burger nights so you can keep calm and burger on for the rest of summer – and beyond.  
1 x Tuscan Chicken Burger Seasoning 
Infuse your chicken burgers with Mediterranean-inspired flavors—tiny nuggets of garlic, sun-kissed tomatoes and red bell peppers that soften into bursts of flavor.  
1 x Southwest Ranch Dressing 
A twist on a classic Chipotle dressing, this blend has a creamy ranch component and is slightly zesty—yum! Pairs great with potato salad, wraps and buffalo chicken dip.  
1 x Cajun Fries 
Complete your burger feast with a side that really packs a punch. Made with garlic, sea salt, paprika, and onion—better than restaurant-style fries and much lower in sodium.  
Epicure is dedicated to sharing delicious meal solutions that use only real, whole ingredients you can trust, while never ever compromising on taste.
Epicure products are:
100% gluten free
Made in a nut-free facility (except coconut)
Free from corn syrup & hydrogenated fat
Free from artificial colors, sweeteners & preservatives
Sugar & sodium conscious
Made from ethically sourced ingredients
85% non-GMO Project verified
Learn more about our Good Food Mission and the Never-Ever List