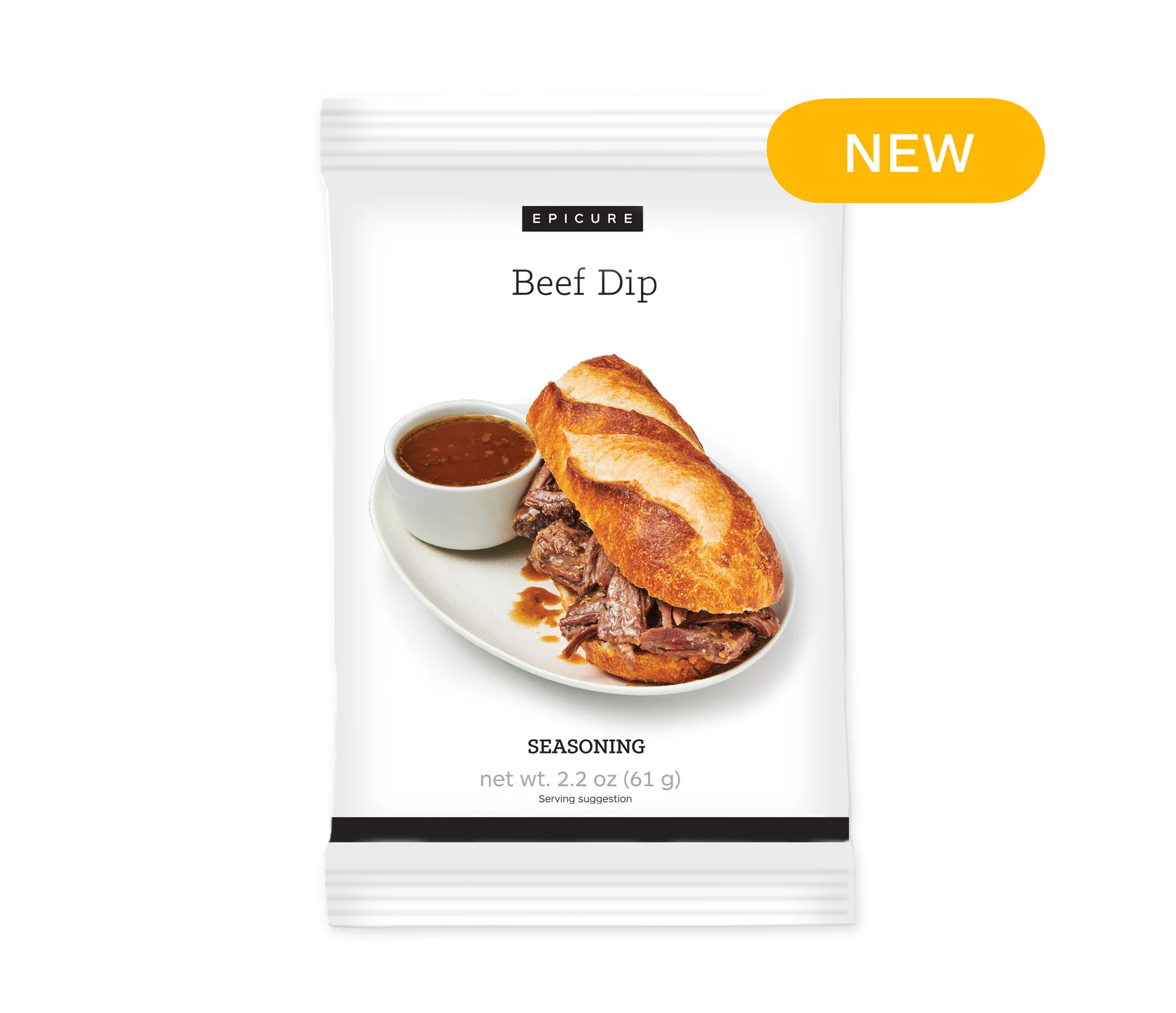 A gastro-pub fave, it's now easy – and so darn tasty – to make Beef Dip at home. With soft, subtle notes of mushrooms, garlic, rosemary, and thyme, stack this melt-in-your-mouth beef on top of crusty baguettes topped with Roasted Garlic Aioli and serve on busy weeknights and weekends at home, or feed a crowd on game day. 
Make Beef Dip at home in minutes with this tasty, gluten free blend. 
Only three ingredients are required: Beef Dip Seasoning, water, and beef – so easy! 
Choose a budget-friendly pot roast or chuck roast. 
Makes a big batch – great for freezer meals. Meal prep Sunday: set and forget in a slow cooker or Instant Pot™.  
Prep tips: 
Follow the recipe on-pack for classic Beef Dip. Best served slathered with Roasted Garlic Aioli.  
Make a roast. Stir in tomato paste and a bag of baby carrots and baby potatoes.  
Use dry blend as bouillon to make minestrone or onion soup or add it to gravy.  
Blend into burgers, meatloaf, meatballs, or any recipe that calls for ground meat.  
Makes a great all-purpose roast seasoning. 
INGREDIENTS 
Black pepper, Garlic, Inactive nutritional yeast, Mushroom, Onion, Organic apple cider vinegar powder (Organic maltodextrin, Organic apple cider vinegar), Organic cane sugar, Organic tamari powder (Organic tamari soy sauce (Organic soybeans, salt, Aspergillus oryzae, bacterial culture), Organic maltodextrin, salt), Paprika, Rosemary, Sea salt, Thyme. 
We spend as much time thinking about everything we don't put in, as everything we do. See Our Good Food Promise and our Never-Ever List to see what you won't find in an Epicure ingredient list. 
Epicure is dedicated to sharing delicious meal solutions that use only real, whole ingredients you can trust, while never ever compromising on taste.
Epicure products are:
100% gluten free
Made in a nut-free facility (except coconut)
Free from corn syrup & hydrogenated fat
Free from artificial colors, sweeteners & preservatives
Sugar & sodium conscious
Made from ethically sourced ingredients
85% non-GMO Project verified
Learn more about our Good Food Mission and the Never-Ever List